We've had an exciting few weeks at Fox, working to bring our customers the latest products to add to their clinic's roster and so, we introduce you all to some of our Fox Pharma new in products – set to help you take you clinic to the next level. The first addition to our new in section here at Fox Pharma is BOTOX, an anti-wrinkle injection renowned and already established within the aesthetics community -recognised for its ability to reduce the appearance of facial wrinkles.
BOTOX works by paralysing the injected muscle to prevent contractions in the area. For any muscle to contract, the nerves release a chemical messenger called acetylcholine at the junction where nerve endings meet muscle cells. Acetylcholine attaches to receptors on the muscle cells and causes the cells to contract or shorten. However, BOTOX injections prevent the release of acetylcholine, which stops the muscle cells from contracting. In this way, the toxin helps the muscles to become less stiff. Stopping the muscle from contracting will prevent the formation of both fine and deep lines without the ability to frown etc. Furthermore, BOTOX is extensively known for its cosmetic benefits to enhance or improve deep lines. This anti-wrinkle injectable is also a prescription only medicine indicated for the temporary improvement in the appearance of moderate to severe vertical lines between the eyebrows (glabellar lines), moderate to severe lateral canthal lines (crow's feet lines) and moderate to severe forehead lines in adult patients – as well as providing treatment for medical conditions.
With the Aesthetic Medicine Market Size set to reach $149.06 BN In 2030 and the anti-wrinkle product segment accounting for the largest revenue share in 2021 – BOTOX is a driving product within this market and so, we are pleased to announce we can now offer BOTOX as a prescription only medicine to our customers.
Buy the BOTOX range here.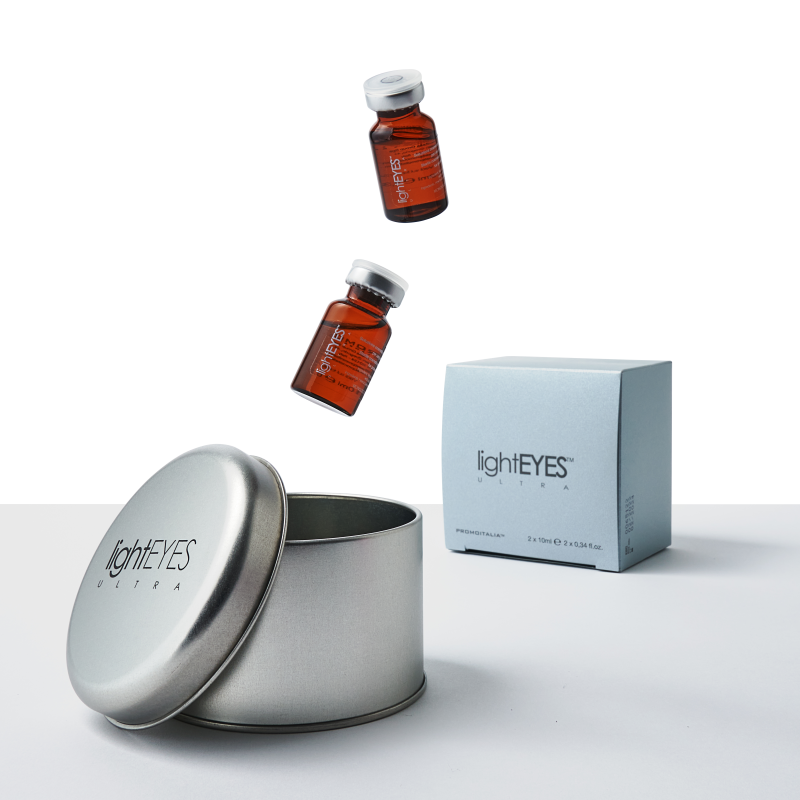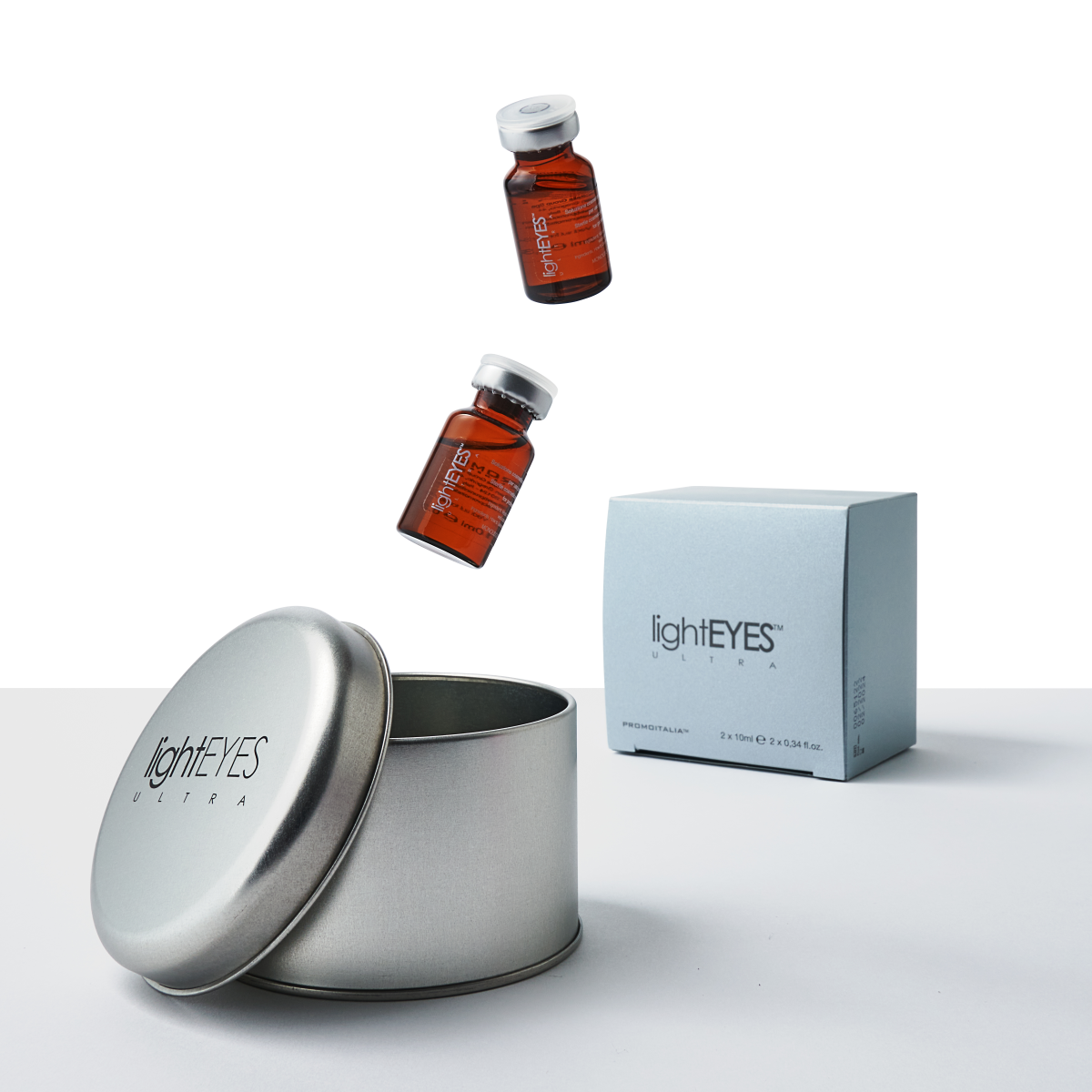 Next to add to the newness is Light Eyes Ultra – exclusively distributed in the UK by Fox Pharma Limited. An exciting addition to our skin booster category, Light Eyes Ultra is exclusively developed for treatment of the skin around the eyes and eyelids – an effective alternative to the popular tear trough filler. Impressively, Light Eyes Ultra is a specialised cocktail containing Hyaluronic Acid, Ruscosides, Vitamin C and Anti-Oxidants (able to improve microcirculation), cutaneous elasticity, and drainage in the periocular area. Working to brighten the eye area and increase circulation, Light Eyes Ultra helps patients to achieve a more youthful and rested look without the need for invasive surgery. Light Eyes Ultra is injected into multiple points with a fine needle tip to deliver a cocktail of Hyaluronic Acid, rosemary extract, vitamin C, argireline and other extracts around the eyelid skin. With this treatment there are generally four sessions done in 2-week intervals. Moreover, results are visible within 24 hours and continue to improve with each treatment.
Additionally, the ingredients of Light Eyes Ultra provides patients with skin-boosting benefits, for example:
Hyaluronic Acid: One of the fundamental components of the connective tissue which enables the skin to maintain its form.
Rosemary extract: An antioxidant rich in phytolipids, useful for cutaneous repair.
Vitamin C: Favours in the formation of collagen, hyaluronic acid and of intracellular substances. Gives protection from free radicals and strengthens cutaneous tissues.
Argireline: Reduce the depth of facial wrinkles caused by the contraction of facial muscles, especially around the eye contour, and prevents skin aging induced by repeated facial movements.
Essentially, Light Eyes Ultra helps to reduce dark circles, improve the appearance of bags under the eyes, reduce fine lines and to overall firm and refresh the area around the eyes. It is the perfect option for those hesitant to have tear trough filler plus, Light Eyes Ultra has no social downtime despite mild bruising in some cases.
With one box of Light Eyes Ultra providing 30 treatments, this is the perfect solution for combatting dark circles. Now available exclusively at Fox Pharma here.
Another exciting addition to Fox Pharma is the Nucleofill range. As Fox Pharma Limited is the exclusive UK pharmacy distributor for Nucleofill, we are proud to introduce Nucleofill Strong, Nucleofill Medium Plus and Nucleofill Soft Plus to our skin booster category.
Nucleofill is a new line of natural polynucleotide-based skin boosters that work to achieve skin rejuvenation and revitalisation. Using a high viscosity, bio-stimulating gel to help refresh lacklustre skin – the Nucleofill range effectively works on four types of stimulation: skin regeneration, a skin-deep moisturising effect, firming and contouring of the skin and cleansing the cells by increasing circulation and removing free radicals.
Unlike most skin boosters, Nucleofill does not contain Hyaluronic Acid and instead contains high molecular weight polynucleotide chains. The biochemical peculiarities of these polynucleotide chains make the product highly viscoelastic and capable of binding to water molecules for a skin-deep moisturising effect. The strong moisturising abilities of Nucleofill are mainly due to the water retention capabilities of the hydrophilic groups of the phosphorylated sugars.
Each of the Nucleofill products specialise in a specific treatment protocol – each boasting impressive results.
For more on the Nucleofill range, see our blog 'Introducing the Nucleofill Range' or alternatively – shop Nucleofill directly, here.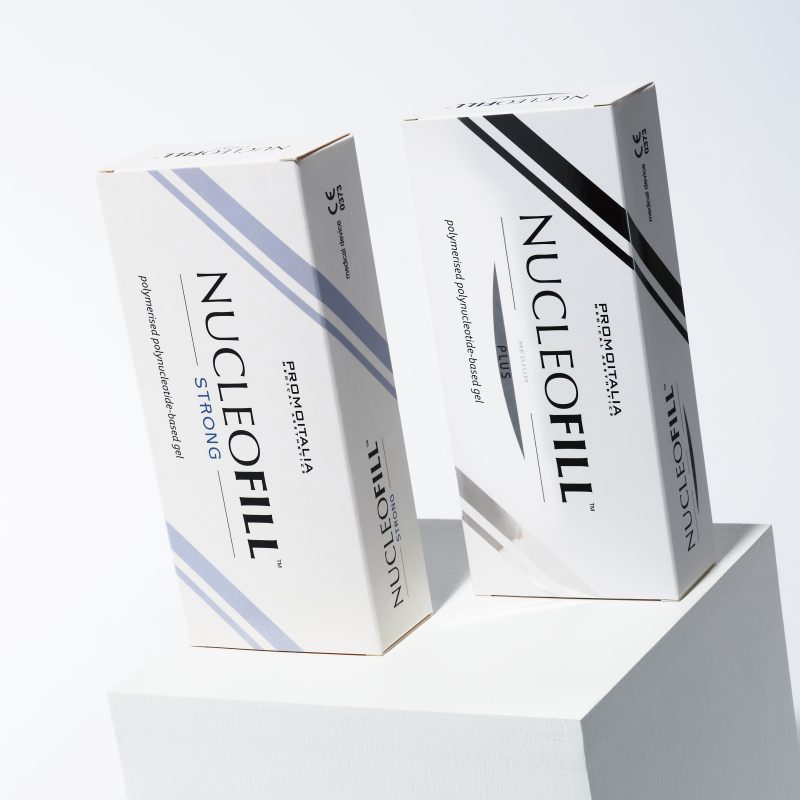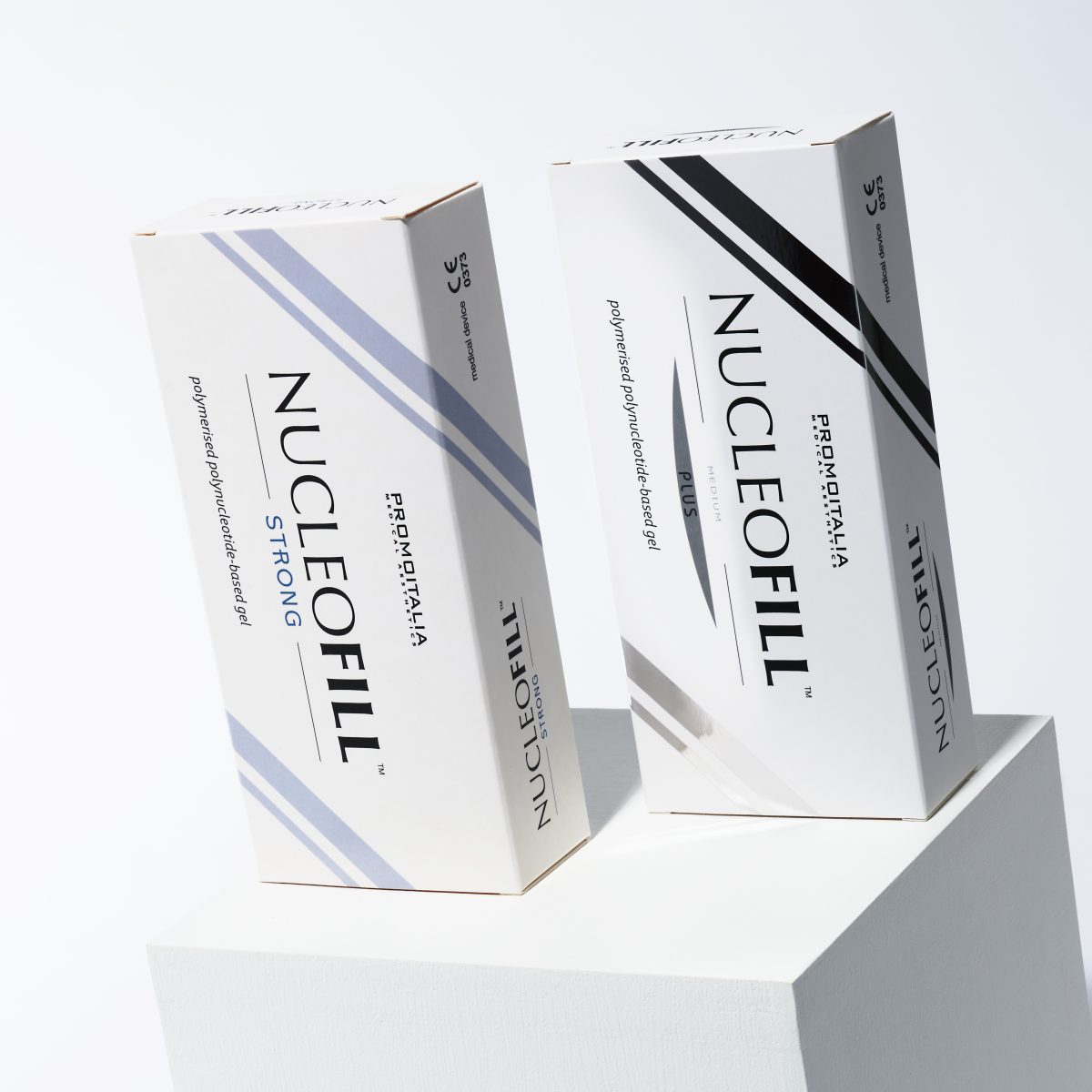 As the industry expands at a phenomenal rate, we here at Fox Pharma are always on the search for the latest innovations in the aesthetics market. With new products constantly being added to our roster, keep an eye out on our new in for your next potential product.