Our Clinic Catch Up series here at Fox gives viewers the opportunity for a first-hand insight from a practitioner and clinical point-of-view when ordering and partnering with Fox. Our fortnightly Clinic Catch Up is centred around practitioners in clinics who are frequent customers of Fox and utilise the services that we provide. In this Clinic Catch Up, we reached out to Claire at Aesthetically Perfect for a personal account of her experience with Fox Pharma and REVOLAX.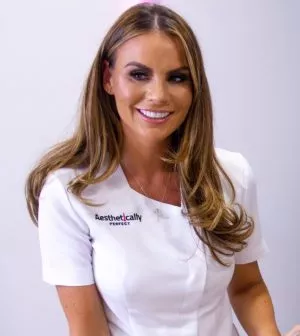 Claire is an advanced practitioner with 5-years of experience in the aesthetic medicine industry after kickstarting her practitioner career in 2016. Claire did an advanced aesthetics training course in Los Angeles with the renowned aesthetics practitioner, Dr Kay to help perfect her skill. Following on from this, Claire then returned to the UK where she introduced her new techniques to the market including facial sculpting and augmentations. She has since opened her aesthetics clinic and training academy, Aesthetically Perfect, where she offers advanced training to doctors, nurses, and other professionals across the globe. Today, Claire has three clinics based in Liverpool, Harley Street and Edinburgh.
Claire is celebrated in the industry for her infectious and bubbly personality and offers her students and clients a high-quality service using only regulated and certified products.
In this episode, Claire shares her overview of ordering and partnering with Fox, describing her experience and the benefits of choosing Fox as an aesthetics provider. She explains how Fox helps to benefit Aesthetically Perfect and the easy shopping protocol of purchasing regulated products with quick delivery.
Q&A With Claire
In an off-camera interview with Claire, we delved deeper into her experience with Fox Pharma and her thoughts on The Nation's Favourite Dermal Filler, REVOLAX. Claire at Aesthetically Perfect gives us a full overview of her experience and thoughts on Fox Pharma and REVOLAX.
How long have you been using REVOLAX?
"We at Aesthetically Perfect began using REVOLAX when Fox first introduced it to the UK aesthetics market 5-years ago. Since then, we've always opted for REVOLAX, and we have never stopped using it. The product itself is absolutely fantastic and I absolutely love every product that they offer, it's long-lasting, it doesn't migrate and of course, it is CE approved on the UK market. "
How long have you been a customer at Fox?
"So, I've shopped with Fox my whole career as an advanced practitioner. Not only do I purchase my dermal fillers and REVOLAX from Fox, but they also have an onsite prescriber should I have any prescription needs last minute, such as Toxins. What I love about Fox Pharma is that they're a one-stop-shop! Everything I need for my clinical needs is in one place with Pharma – making my life so much simpler."
Why do you choose Fox as your go-to aesthetics provider?
"Fox is amazing for various reasons. One of the most compelling reasons that made me choose Fox as my go-to aesthetics provider is the simplicity of ordering– something to is so important to practitioners who run a busy clinic like myself. As I have a one-to-one account manager at Fox, I can simply send a text over WhatsApp which is a super easy service for me to use, especially when I am busy in the clinic. With Fox only being a text away, I can always enquire about any medical questions I have and if I need advice on any of their products – Fox is always there to help with their onsite pharmacist at hand. I can also make any last-minute orders with the guarantee I will have the product 24 hours after the order has been placed."
Why do you use REVOLAX in your clinic?
"Here at Aesthetically Perfect, not only are we an aesthetics clinic but also a training academy. So, it's vital for us to use dermal fillers such as REVOLAX which are credible and safe in the aesthetics industry and to introduce these to our students. With so many dermal fillers available on the market, it's hard to explain to students during training which dermal fillers should be used and why. However, with REVOLAX it's easy to advise students why this dermal filler is the best. Students can know and trust that REVOLAX can be a go-to dermal filler for all their aesthetic needs with the guarantee that it has undergone all stringent safety tests when ordering from Fox Pharma.
Which type of REVOLAX is your favourite?
"In my clinic and my training, I use all types of REVOLAX including Fine, Deep, and Sub-Q. I love to use Sub-Q for my facial sculpting; there's no dermal filler on the market that lifts as REVOLAX Sub-Q does with such minimal product that is required for the desired effect. It is amazing on the cheeks, chin and jaw and my clients love the results. On the other hand, I also love REVOLAX Deep for non-surgical rhinoplasties which are top of everyone's aesthetic lists – it gives a nice and soft effect and with Deep, I know I am not compromising patients' safety and any vessels in the nose as Deep is not thick enough to. Further, at Aesthetically Perfect, we also do Russian Lips which is a super popular lip augmentation technique at the moment – for this, REVOLAX Fine has quickly become my all-time favourite product to use. However, if a client is after a more volumised lip look, I also like to opt for REVOLAX Deep – taking the needle from REVOLAX Fine and placing this on my REVOLAX Deep syringe.
As much as I love all the REVOLAX range, REVOLAX Fine is my favourite currently. It's my preferred dermal filler to use on the lips and gives a beautiful flat look whilst giving a complementing lifting effect. I also love Fine for the tear trough area also!"
Watch our clinic catch-up series with Claire at Aesthetically Perfect where we talk all things Fox Pharma and REVOLAX here:
Shop REVOLAX from your trusted aesthetics provider, Fox Pharma.