Monophasic – Polydensified – Structure
REVOLAX, The Nation's Favourite Dermal Filler, has a monophasic structure of regular and dense lattice. The structure of REVOLAX ingredients makes for consistent, smooth injection throughout the treatment and helps to naturally harmonise volume, look, and feel.
REVOLAX's dense and regular patterns, unlike most other HA Monophasic fillers, make the structure more solid and durable whilst maintaining viscosity and elasticity.
The product has been designed to appear natural looking over the full course of time up until the point that it is fully absorbed into the skin.
REVOLAX filler ingredients produce long-lasting effects
REVOLAX dermal fillers are highly structured, monophasic and densely linked HA polymers that are enabled to last up to 18 months – product dependent.
REVOLAX Fine with Lidocaine
REVOLAX Deep with Lidocaine
REVOLAX Sub-Q with Lidocaine
Composition
HA 24mg/ml Lidocaine 0.3%
HA 24mg/ml Lidocaine 0.3%
HA 24mg/ml Lidocaine 0.3%
Recommended Indications

Superficial lines;
Worry Lines
Crow's Feet
Neck Wrinkles

Lips
Deep Nasolabial Folds
Face Contouring and Augmentation.

Severely Deep Lines
Nose
Cheeks / Chin Contouring and Augmentation.

Injection Depth
Superficial Dermis
Mid/Deep Dermis, Subcutaneous
Deep Subcutaneous
Volume
1.1ml
1.1ml
1.1ml
Complex Viscosity
80
160
280
Needle Size
30G
27G
25G
Duration
8 – 12 Months
12 – 18 Months
12 – 18 Months
Storage
2 – 25°C
2 – 25°C
2 – 25°C
Shelf Life
24 Months
24 Months
24 Months
Hyaluronic Acid: derived from streptococcus zooepidemicus
Crosslinked HA : 100%
Crosslinking Agent: BDDE
BDDE Residue in the final product: Not Detected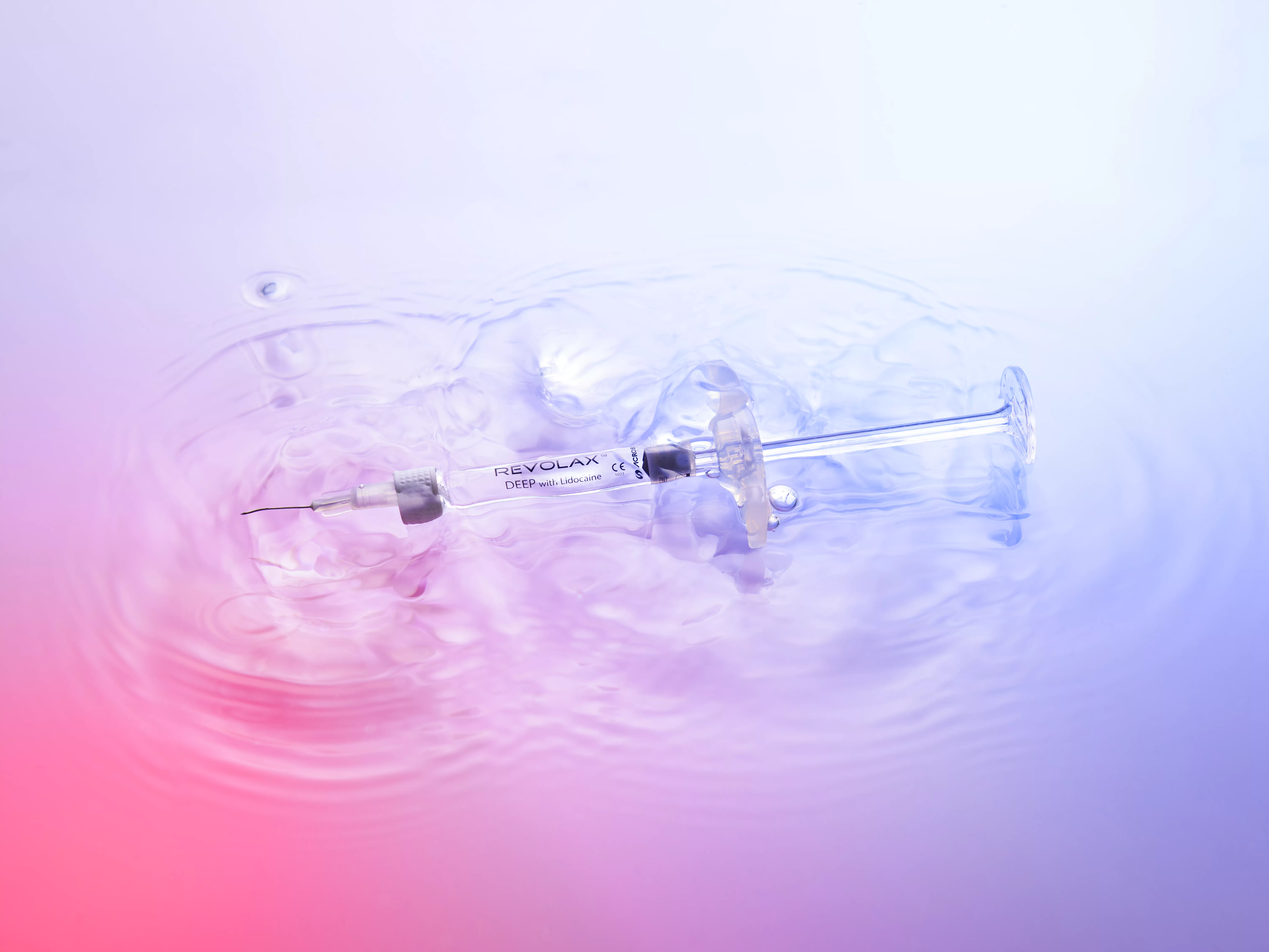 Patient requirements
REVOLAX with Lidocaine must not be used in:
Women who are pregnant or breastfeeding.

People under the age of 18.

Patients who are known to demonstrate hypersensitivity to hyaluronic acid.

Patients who are known to demonstrate hypersensitivity to lidocaine.

Patients who tend to develop hypertrophic scarring.

Immediately before or post laser therapy, chemical peeling or dermabrasion.

Areas presenting cutaneous inflammation or signs of infection.
Contact Us
If you have any further questions about REVOLAX filler ingredients or have any other queries relating to Fox Pharma, please do not hesitate to contact us! We are always happy to help.