Now that it's almost Christmas, it's only natural that we begin reflecting on the year that's almost behind us, and pull together our new year's resolutions in time for the first of January. That's exactly what we're doing as we look ahead to the year of 2023 with positive Fox Vibes. 2022 has been a pivotal year for Fox Group, with significant company growth, and our values of quality and innovation demonstrated through multiple product launches.
From humble beginnings when Fox was founded over six years ago, to the market-leading business we are today, it's incredible to reflect on our growth and triumphs across the years. To name a few magnificent milestones, we have reached 75% company growth, and we are up 40% on company revenue. So, what else has happened in the past year?
Alongside introducing a 4 day week and launching 20+ campaigns, we've completed 25+ clinic days and in-house training sessions, and gained 4,000+ registered prescribers, in addition to 77 official training partners. Let's take a look back at 2022 to see what's made this year so pivotal at Team Fox.
February
Fox launches Seventy Hyal 2000
Our first new product of the year! At the beginning of 2022, we introduced Seventy Hyal 2000, The Next Generation Skin Booster, as the exclusive rights holder. Powered by high molecular-weight hyaluronic acid, Seventy Hyal 2000 is injectable skincare that hydrates the skin and promotes a glowing complexion.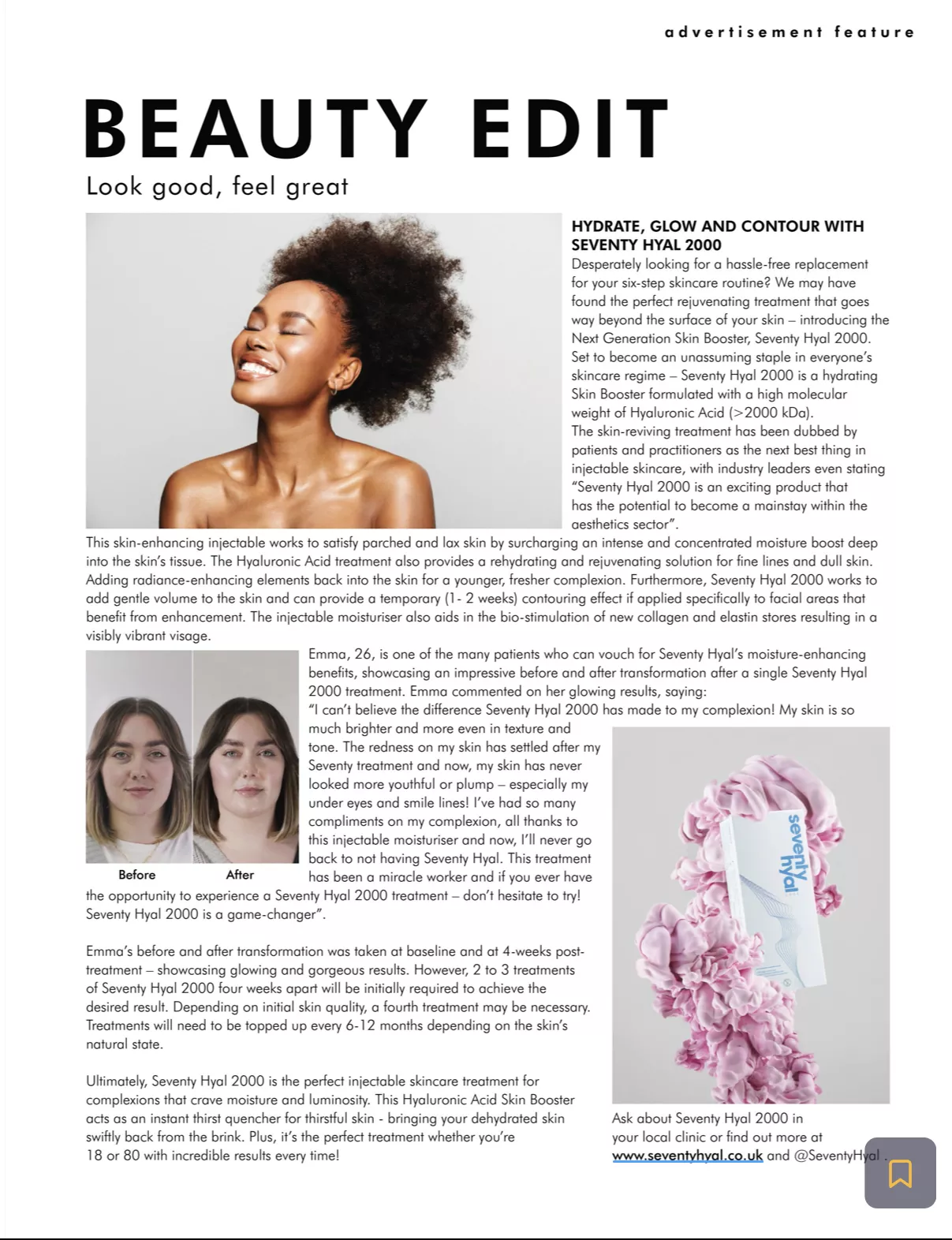 May
Seventy Hyal 2000 is featured in Cosmopolitan
There's no doubt about it, 'Cosmopolitan' has a huge readership and is the 'go-to' mag for anyone who loves reading about beauty products. In the first half of this year, Seventy Hyal starred in the pages of Cosmopolitan Magazine, and we're so proud to have been featured in such a well distinguished publication!
Fox Group Launches Nucleofill & Light Eyes
In May came more product launches. We're always searching for the latest innovations in the industry, and that's why in Spring, we launched two new products. Skin boosters are the new wave of injectable skincare, and Nucleofill was introduced with three characteristics for the skin: lifting, anti-oxidant, and hydrating. Likewise, Light Eyes Ultra has a concentrated blend of skin-enhancing ingredients and a formula that helps to treat the delicate eye area.
June
Ekin-Su's viral REVOLAX journey (contributing to 30M+ #hashtag views for REVOLAX!)
The Love Island hype was very much real last Summer. The Love Island Queen brought in a huge 2.4 million views on REVOLAX TikTok! Demonstrating her journey with filler through a video with acclaimed Harley Street Doctor and REVOLAX Key Opinion Leader, Dr Motox, Ekin-Su brought record high engagement and interactions on our TikTok platform.
Fox Group launches Love Island Summer of REVOLAX campaign
The Summer of love, the Summer of REVOLAX. Keeping up with the Summer trends, we launched a REVOLAX campaign aligning with the popular TV series Love Island. Whilst Love Island was on our TV screens, REVOLAX was all over social media, boasting its properties that show flawless results. We shared the thoughts of past and present contestants Indiyah Pallock, Faye Winter and Molly-Mae Hague, who are all familiar with aesthetic treatments.
Fox Group launches In The Clouds campaign
In the same month as our REVOLAX campaign, we also showcased Seventy Hyal. Skin boosters: the new wave of injectable skincare. Once we launched Seventy Hyal, our
In The Clouds campaign
 highlighted exactly how the Next Generation Skin Booster that meets all of your clients' skincare needs. It revitalises dull and dry skin, plumping the skin with hydration through a specialised formula containing high molecular weight Hyaluronic Acid (HA).
July
Celebrating 6 years of Fox Group
July was our sixth birthday! After momentous years of significant growth, 2022 saw Fox Group turn 6; from our birthday campaign to our business events, our birthday marked a celebration for past, present and future business ventures. We had some delicious cake and made some great TikToks from the party…
July & August
Seventy Hyal 2000 featured in Elle & Harpers Bazaar
Nearing the end of Summer, came two more features. We're honoured to have been featured in two renowned publications: Elle & Harpers Bazaar in Summer. Both known for their sophistication and elegance within the beauty industry, Seventy Hyal 2000 was able to boast its skin boosting properties in featured articles! In both edits, the advertisement feature includes everything you need to know about Seventy Hyal 2000.
August
Hot Girl Summer Campaign
Another month, another campaign. Did someone say hot girl Summer? We did! Over our social channels, we launched our REVOLAX Hot Girl Summer Campaign which encouraged fearlessness and confidence. Helping you to become the best version of yourself, our Hot Girl Summer Campaign showcased our whole REVOLAX range and how you can have the best Summer possible.
September
Dermal Filler Distributor of The Year award
Fox Pharma is officially the 2022 Dermal Filler Distributor of the Year! The Global Health and Pharma Magazine is an acclaimed publication that is prolific in pharmaceutical and healthcare industries. Attaining this title helps to facilitate our advancements with Fox Pharma and showcases our innovations throughout the years.
October
Launch of aesPlla® – October
Another product launch! Some exciting news for October: introducing aesPlla®, a brand new PLLA Filler for facial volumisation and collagen stimulation. What is a PLLA filler? Poly-L-Lactic acid is an absorbable, semi-permanent, injectable implant that can be used to gradually restore volume and stimulate collagen production.
November
Seventy Hyal 2000 featured in Vogue
Heading towards the new year with another feature in another publication. Seventy Hyal 2000 starred in the pages of Vogue, in the November to January 22/23 edition, giving readers a snippet of Seventy Hyal's skin-enhancing properties. Being such a prestigious publication, we were delighted to proclaim Seventy Hyal 2000 and give an overview of the skin benefits that it offers.
Fox Group's 2022 Round Up
It's been a remarkable year for Fox Group! From launching new products, to our Fox teams expanding, 2022 has been a significant year of growth and development for us. Now that Christmas has almost passed and the new year approaches, what's next? Well, we're only just getting started. Thank you to all of our customers for helping us to make 2022 the year that it has been. We're so excited to have you on board for everything that's to come in 2023 and beyond!
To read more about our product launches, company updates, and more, visit our website.