Given the rising demand for aesthetic supplies online, we here at Fox Pharma have made it our duty to provide customers with innovative and market-leading technology and treatments whilst constantly on the search for the next best thing in aesthetic medicine. However, despite the influx of new products being introduced to Fox Pharma – there is still a range of products that stay a staple for customers when it comes to their aesthetic preferences and so, we introduce Fox Pharma's best sellers. Our best seller's category is a merge of staples both new to Fox Pharma and original favourites that provide practitioners with excellent results and clinics with an extensive roster – leaving them no choice but to re-purchase. Will you find your new favourite in our best sellers' category?
REVOLAX Deep
REVOLAX Deep, alongside the full REVOLAX range, is an unassuming staple in every aesthetics practice. This is due to the favourable and flattering results that this Dermal Filler flaunts as the perfect go-to for: the treatment of deep wrinkles and nasolabial folds, non-surgical rhinoplasty, and augmentation of the cheeks, chin, and lips. REVOLAX Deep is a thick, cross-linked Dermal Filler that lasts between 12-18 months – making it the pick of preference for many practitioners. Moreover, REVOLAX Deep is formulated with high-grade Hyaluronic Acid (HA) for volumising, plumping and moisturising effects – helping to keep the appearance youthful and rejuvenated. REVOLAX Deep is a popular choice for practitioners due to not only the incredible results that REVOLAX Deep produces but also from an affordability standpoint.
Furthermore, as REVOLAX is comprised of a regular and dense monophasic structure, this makes the gel stable and consistent. Further to this, the consistency allows for natural harmonised volume, and a smooth injection and promotes a stronger support system within the skin structure for results that make a difference. REVOLAX Deep is also popular due to client feedback and the lack of migration once injected – REVOLAX's low percentage of product migration means that once injected, the product is more likely to stay close to the injection site with accuracy. This means that flawless results are longer-lasting for the patient.
As Fox Group are the UK rightsholders to REVOLAX, this means that products are directly obtained from the manufacturer which means no middlemen, no increased prices and no additional costs. A lower price tag doesn't mean we skimp on quality though as REVOLAX products simply ensure that the savings are passed onto customers to help them grow their own business.
Shop REVOLAX Deep directly at Fox Pharma here. Alternatively, you can purchase REVOLAX.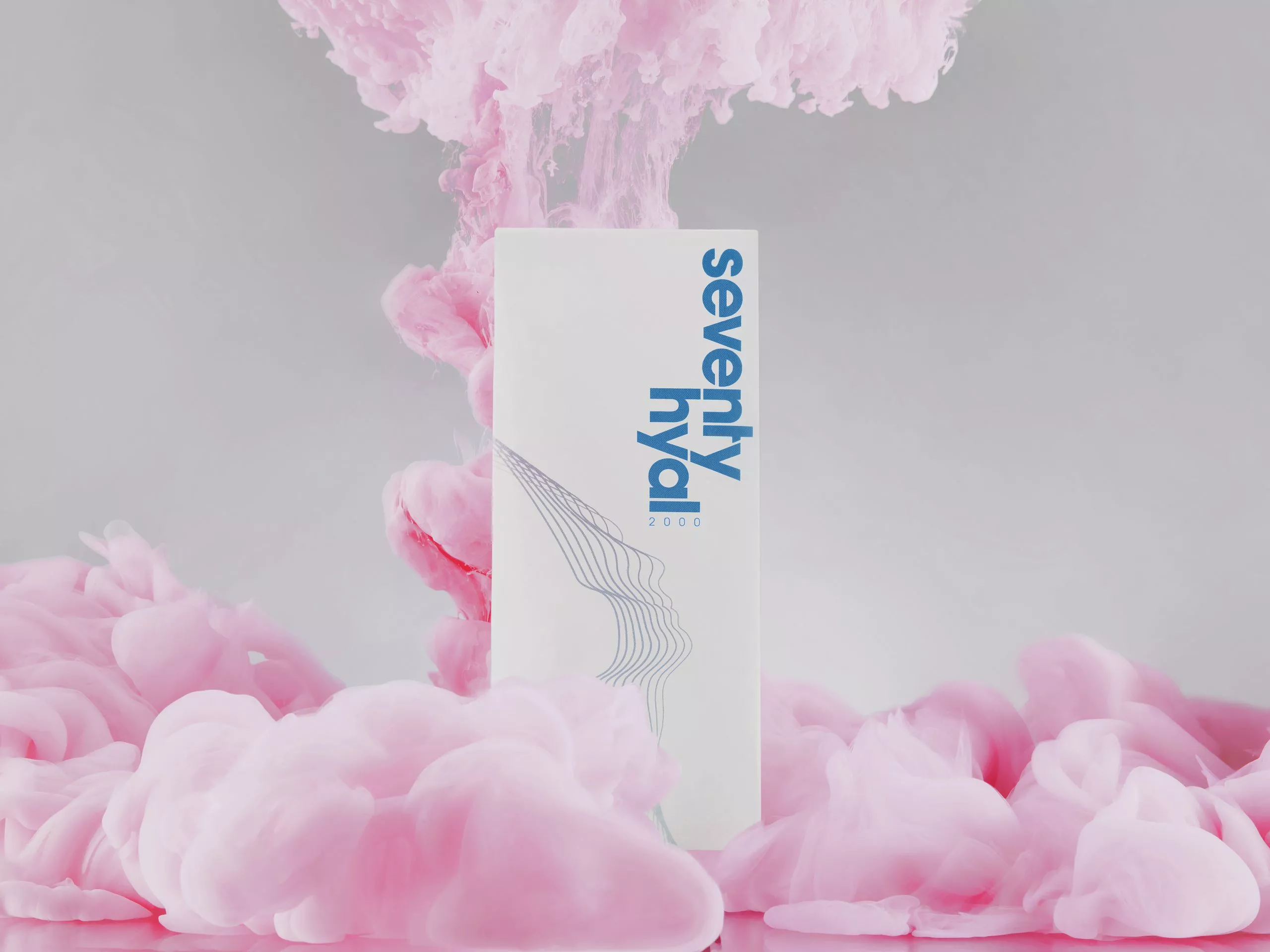 Seventy Hyal 2000
Relatively new to the Fox Pharma roster, and the Skin Booster market, is Next Generation Skin Booster – Seventy Hyal 2000.
Seventy Hyal 2000 is an injectable Hyaluronic Acid Skin Booster treatment that aims to improve hydration levels within the skin for a rejuvenated and glowing appearance. Formulated with one of the highest molecular weights of Hyaluronic Acid (HA) on the current market (> 2000 kDa), Seventy Hyal 2000 treats the physiological depletion of Hyaluronic Acid back into the skin to help restore and rejuvenate the dermis. Furthermore, Seventy Hyal has bio-stimulating properties to simultaneously encourage the production of collagen and elastin in the skin for a younger and fresher complexion. 
Despite being a newcomer to the Skin Booster market, Seventy Hyal 2000 is proving to be a strong contender amongst patients and practitioners due to the results of gorgeous, glowing skin. Moreover, for practitioners – Seventy Hyal 2000 provides the perfect cost-effective pathway into the Skin Booster market. A single Seventy Hyal 2000 box contains 3 pre-filled syringes with each syringe singularly sealed and containing 30mg/2ml, an amazing cost to ml ratio.
For more on Seventy Hyal 2000, see the site here or shop directly on Fox Pharma here.
Jalupro Super Hydro
Jalupro Super Hydro is a specialised skin booster treatment formulated with amino acids. This injectable skincare treatment works to stimulate fibroblasts in the skin to produce collagen and elastin to restore elasticity and volume to the skin. Jalupro is a safe, sterile absorbable injectable solution which acts as a dermal 'bio-revitaliser' and can also be used for improving skin texture and softening fine lines and wrinkles. The potent blends of high-grade ingredients including amino acids and Hyaluronic Acid (HA) are combined to add skin-enhancing benefits including plumpness and restoring youthfulness to the skin whilst not working to 'fill' like a traditional dermal filler. Essentially, this treatment works to restore radiance and firmness of the skin whilst preventing and reducing sagging skin and fine lines. Furthermore, Jalupro Super Hydro is a multifunctional treatment that also works to enhance other cosmetic treatments, such as dermabrasion and laser therapy. Jalupro is ideal for clients that want a softer look or those who are not ready for dermal fillers. We also stock other products in the Jalupro category, available at Fox Pharma to browse here.
Bocouture
Bocouture is a toxin derived from Botulinum Toxin Type A which works as an alternative injectable for anti-wrinkle treatments. Bocouture is a natural yet highly purified protein that facilitates the relaxing of muscles – helping to soften the appearance of wrinkles and facial lines. Bocouture helps to relax muscles, by initially blocking the nerve impulses. It is injected into the muscle area to relax muscles by preventing their constant contraction. This effect is reversible and temporary and requires further treatments to maintain its longevity. Typically, improvement is observed between 2-3 days; however, full effects can be seen on day 30. However, as with any injectable – this will vary depending on the age and muscle strength of the patient being injected. After this, a Bocouture toxin injection is expected to last on average 3 to 4 months depending on the individual.
To shop our full range of toxins, including Bocouture, shop online at Fox Pharma here (prescription only).
Aqualyx
Aqualyx provides users with an alternative to surgical fat-dissolving methods. Aqualyx is a completely biodegradable and biocompatible fat-dissolving injection that offers treatment for patients who are looking to lose pockets of fat with minimal side effects. When this fat dissolving injection is injected, it works by liquefying the fat cells, destroying them permanently and releasing the lipids that are then eliminated and drained naturally via the lymphatic system. Users find Aqualyx to be an effective fat dissolving treatment as fat treated by Aqualyx is unlikely to return. The fat will be permanently gone providing the patient keeps a healthy lifestyle and does not gain excess weight. For more fat-dissolving favourites here at Fox Pharma, see here.
Fox Pharma is the go-to for all of your aesthetic supplies online. Moreover, we are a trusted and credible pharmacy that guarantees exceptional services, and products. What newness would you like to see on our roster here at Fox Pharma? Leave us a comment down below or alternatively, browse our new in products live on Pharma now.