At Fox, we pride ourselves on the quality and results that REVOLAX delivers for patients and practitioners alike. As the UK rightsholders of the Nation's Favourite Dermal Filler, we are committed to ensuring that all patients receive optimal treatment and results. We strive to provide solutions to any queries or concerns that our customers may have. A common concern of practitioners when performing dermal filler treatments is the event of a potential lidocaine allergy.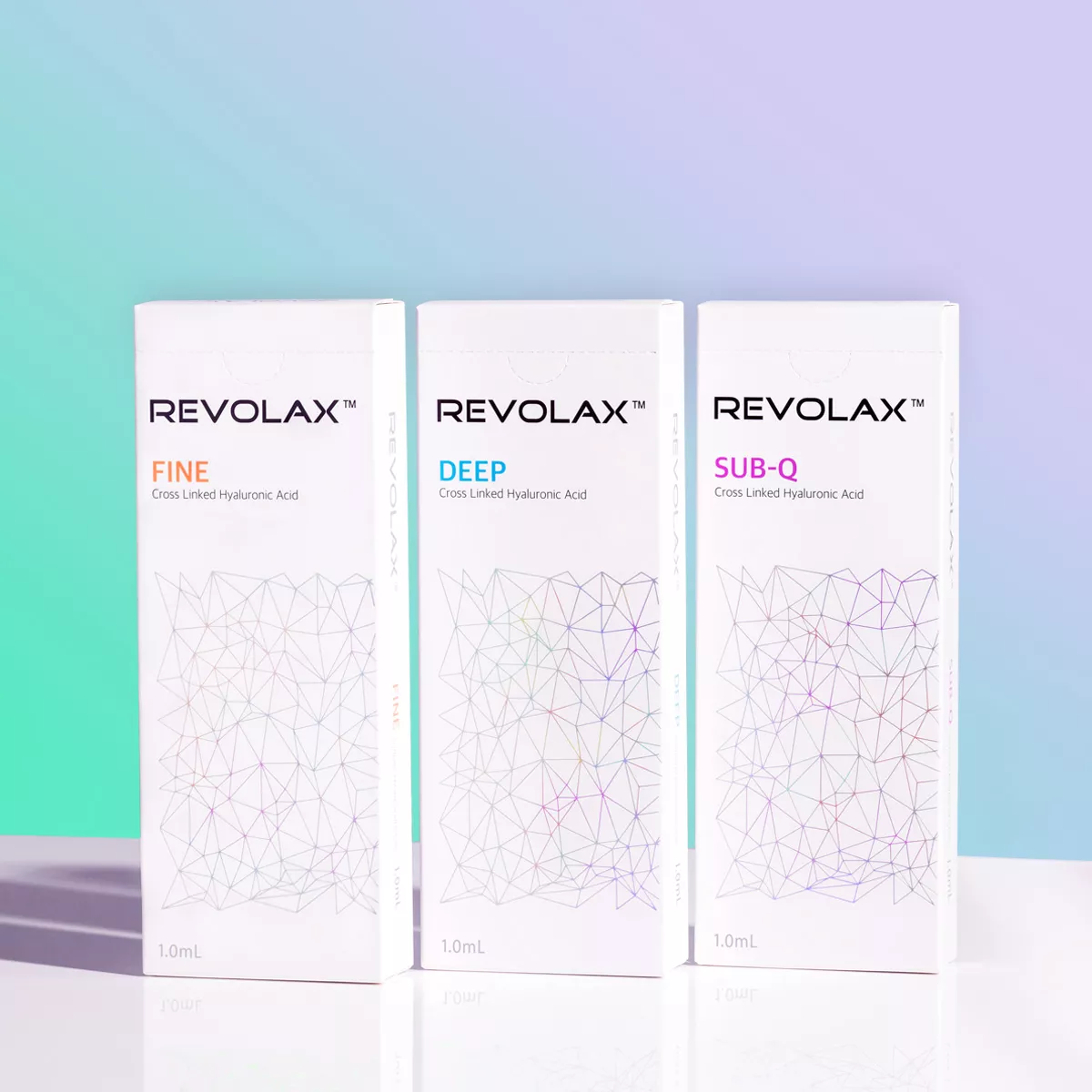 At present, most commercial dermal fillers are pre-prepared with lidocaine, a numbing agent intended to increase client comfort during treatment. The antioxidants and preservatives in lidocaine, such as metabisulfite and parabens, may trigger allergic or adverse reactions in some patients. The REVOLAX range, offers non-lidocaine alternatives to its trio of dermal fillers, to cater for all patients – including those with a lidocaine allergy. Our non-lidocaine range also provides a versatile alternative for practitioners who prefer to use non-lidocaine formulations. REVOLAX without lidocaine does not compromise on volume or lift, offering the same results as the standard REVOLAX range. The only difference between the two is the omission of the numbing agent lidocaine. Both ranges can be injected using the same protocol and both are reversible with hyaluronidase, the Hyaluronic Acid (HA) dissolving agent.

Although both REVOLAX ranges achieve impressive results, having the option of lidocaine and non-lidocaine formulas provides practitioners with more choice when determining which filler Is best suited to their clientele and technique. Lidocaine allergies can pose a serious issue for both patient and practitioner, meaning that they should be considered carefully during the pre-treatment consultation. With the elimination of lidocaine, practitioners must compose an alternative pain relief method to accommodate clients allergic to the numbing agent. Dermal filler injections can be uncomfortable, therefore providing a patient with as much relief as possible is crucial for a positive treatment experience. So how can practitioners reduce pain for patients allergic to lidocaine?
Using Ice to Numb
Ice is a key factor in numbing areas in the face before injection. It is also effective when used directly after treatments. Using ice to numb has been proven to reduce pain by up to 50% in some patients, offering significant relief. Ice offers instant effects, in comparison to the lidocaine pre-merged in the dermal filler, which can take between 20 and 120 seconds to take effect.
When opting for ice packs as a numbing method, we advise using conformable, gel ice packs such as the REVOLAX branded ice packs. They mould around the facial structures with ease, in comparison to more rigid ice packs. By using ice to numb, a practitioner will also decrease the chance of client bleeding and bruising
REVOLAX Ambassador and Fox Academy trainer, Dr Mark Gorman shared his technique for numbing with ice:
"When using ice, there is no need to wait for longer than 20 minutes in sensitive areas and 10 minutes elsewhere. Ice has the additional benefit of reducing bruising and swelling to a minimum. For optimum results and better pain management, maximum skin tension should be maintained. Where tissue is mobile, such as the lips and under the eye, the skin should be stretched however where the skin is less mobile, such as the cheek and jaw, the skin should be pinched."
The perfect injection protocol forms part of a process that begins before needles are introduced; practitioners need to take all the necessary measures to ensure that their patient is comfortable.
For more pain protocol tips with Dr Mark Gorman, see the video below:
As the official UK stockists of REVOLAX, the Nation's Favourite Dermal Filler is available to order from Fox Group companies including REVOLAX UK, Fox Clinic Wholesale and Fox Pharma. The whole REVOLAX range, lidocaine and non-lidocaine, are back in stock with an exclusive price drop on REVOLAX Deep non-lidocaine for practitioners who favour this product!
Which range of REVOLAX is your favourite?