Witnessing unprecedented growth, the skin booster category bridges the gap between cosmeceutical skincare and aesthetics, serving an accessible entry point into the sector for patients of all age groups. Fox Pharma caught up with specialist Kirsten Horsfield to discuss the Next Generation Skin Booster, Seventy Hyal 2000.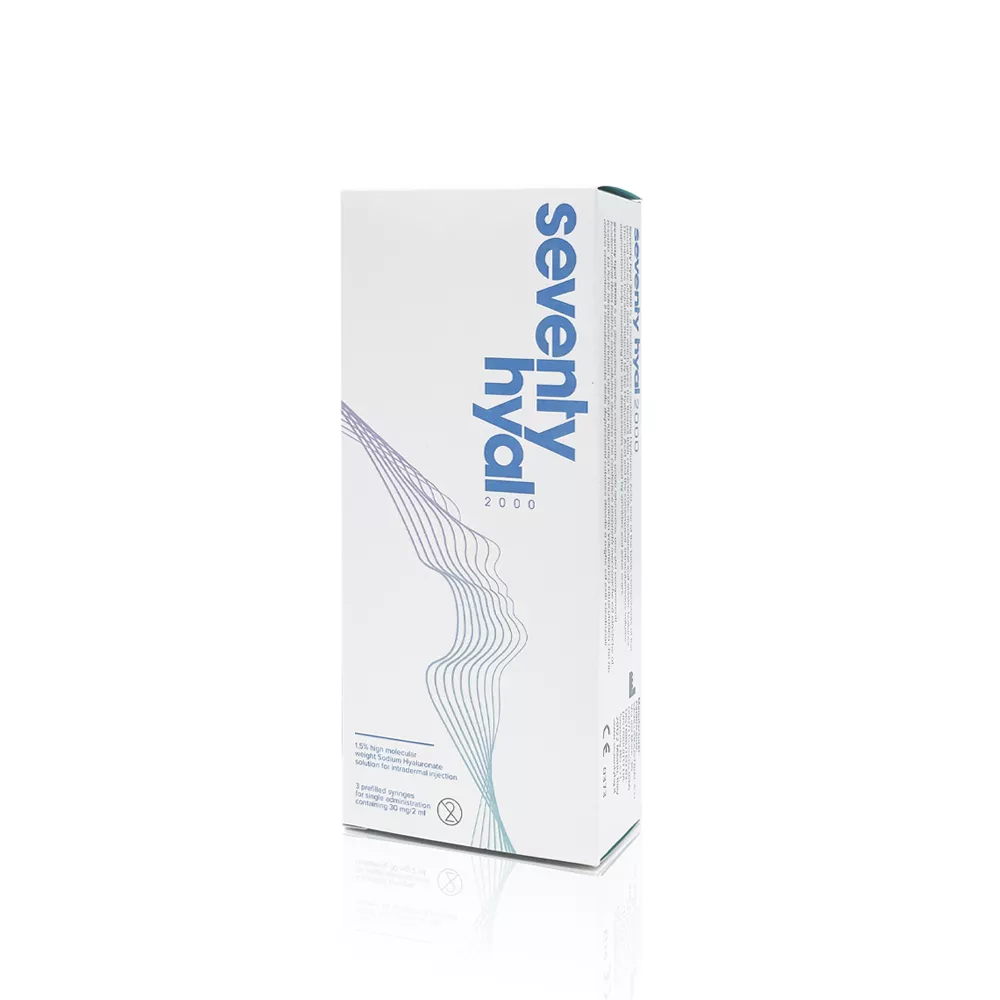 Why has this category become so popular?
The ever-increasing popularity of skin boosters can be attributed to the instantaneous visible results that they provide, in contrast to traditional skincare. Kirsten explains: 'Most of us have bought enough moisturisers, serums, anti-aging creams to open our own skincare store, but the reality is that these products do have their limitations. Our skin by design has layers which stop external substances from penetrating it, so the likelihood of your antiaging serum getting from the surface of your skin down to the deep dermis where collagen is produced is very slim.'
As skin boosters like Seventy Hyal 2000 are injected below the skin's surface, they are able to act with greater efficacy than their topical counterparts, imparting a smoother-looking, dewy visage while enhancing luminosity from the very first treatment.
Do injectable skin boosters actually provide skincare benefits?
Many of us view aesthetic treatments as purely cosmetic, yet Seventy Hyal 2000 provides a host of both instant and long-term skincare benefits, thanks its high concentration of high molecular weight hyaluronic acid. Kirsten explains: 'Hyaluronic acid something we naturally have in our tissues as part of the extra-cellular matrix. One of its jobs is essentially to hold the hydration and lubrication in the tissues, so it has a great hydrating function when we inject it as a skin booster. In addition to their glow-giving benefits, skin boosters help to reinforce the skin's moisture barrier over time, making them a valuable addition to any skincare routine. 'They also help to strengthen your skins natural defences and protect against environmental stressors, so there are longer-term benefits too' Kirsten says.
Versatility
A practitioner's skin booster preference is often down to the versatility of the treatment protocols. Seventy Hyal 2000 can be injected into multiple treatment areas using a variety of techniques. Kirsten told us 'I can use it in so many different ways and different areas of the face, and it's also a great solution for the hands, neck and décolleté.' The Next Generation Skin Booster can be used as a general complexion booster, or to provide targeted hydration to specific areas, as needed.
'Practitioners will predominantly be injecting Seventy Hyal into the face as a full-face treatment, using what we know as the BAP (Bio Aesthetic Point) technique, but it can also be used in more specific areas, such as under the eyes, the perioral area, high up on the cheekbones, and even in the lips for temporary plumping and hydration. Aside from this, the product can be used anywhere an improvement in skin quality is needed… neck, décolleté, hands and even knees and elbows!'


Practitioner's Skin Booster Injection Tips and Aftercare Advice:
Consultation:
Skin booster consultations are essential in ensuring that patients are provided with realistic expectations and a full view of any associated risks and required aftercare. 'The consultation stage is so important. We agree on realistic goals, which also includes ensuring the patient is happy to complete the full course of treatment for a complete result' Kirsten agrees. As the results of the treatment may be subtle, especially for younger patients without visible fine lines, Kirsten stressed the importance of taking pre-treatment photographs during the consultation to showcase the progress of the skin quality over time. As with any aesthetic procedure, thorough preparation of the treatment area is imperative in ensuring optimal patient comfort and safety. 'Depending on the area to be treated and the number of injections, I may use a topical anaesthetic such as LMX4 for 20-30 minutes to reduce discomfort. Once this has done its job, I clean the skin with Clinisept, and I will usually mark out the area to be treated using a pencil before carrying out the injections' Kirsten says.
Shop Kirsten's Pre-treatment Essentials:
Skin Booster Injection Techniques:
When it comes to administering skin booster treatments, practitioners should focus on even dispersion, with many favouring the BAP technique. Kirsten shares her top tips on how to achieve optimal results during a Seventy Hyal 2000 treatment:
'With the exception of the area under the eyes, my preferred technique is to place small boluses into the mid dermis using a 30G needle. As Seventy Hyal is a high molecular weight HA, I try not to inject too superficially, as this can leave lasting visible blebs, which patients don't tend to want. I have seen great results using the BAP pattern, injecting 0.2ml per injection site.'
Aftercare:
So how should patients care for their skin after receiving a Seventy Hyal 2000 treatment? 'The aftercare following any aesthetic treatment tends to revolve around minimising the risk of bruising, product displacement, and infection. In this case, that advice includes avoiding alcohol, excessive heat and excessive exercise for 24 hours, minimising the touching of the treated area and avoiding other facial treatments for at least a week, and keeping the area clean and makeup free for the remainder of the treatment day' Kirsten says.
Why choose Seventy Hyal 2000?
Seventy Hyal 2000 is suitable for all patients (18+) who are looking to enhance the natural beauty of their skin, a testament to the treatment's versatility. The visible results and accessible price point also contribute to the treatment's popularity with practitioners and patients alike. So how does the Next Generation Skin Booster perform in comparison to other products on the market? 'I honestly think it's the best out there at the moment. I have seen comparable (if not better) results with Seventy Hyal vs the other more established products, and my clients who used to request specific popular brands on the market are now converting to this and loving the results! Because of the competitive price point, it also means they can afford to have treatments more frequently, which is a bonus!' Kirsten says.
Seventy Hyal 2000 is available to shop on Fox Pharma. For more information on the Next Generation Skin Booster, visit the brand site here.