If your clients are looking to rejuvenate and plump their skin for the new year, then aesPlla® should be at the top of your clinic's Christmas list. Set to top trending searches in 2023, PLLA fillers are being re-imagined with an emergence of new and exciting products, meaning that there has never been a better time to get ahead of the trend and upskill in collagen-stimulating injectables.
What is aesPlla®?
aesPlla® is a bio-stimulatory PLLA injectable that offers intelligent rejuvenation, harnessing the skin's natural collagen production to provide natural-looking volumisation with superior longevity.
How Does it Work?
aesPlla® is formulated with PLLA or Poly-L-Lactic Acid, a material used for over 20 years in dissolvable surgical stitches. This bio-compatible polymer biodegrades within the body, stimulating the natural production of collagen to smooth and volumise the skin. A key building block in the skin's structure, collagen is responsible for firmness and a plumped, youthful look. Collagen naturally depletes as we age, declining at a rate of up to 1% per year from the age of 25. aesPlla® helps to combat this depletion, promoting a rejuvenated appearance.
aesPlla® requires three to four treatment sessions, spaced four weeks apart to achieve optimal results, making it ideal for clients who are looking to rejuvenate their complexions in 2023. Once a celebrity secret, PLLA fillers offer a natural-looking way to restore a youthful appearance to the skin with minimal downtime and gradual results. They are ideal for full-facial rejuvenation and provide subtler and softer-looking results than hyaluronic acid fillers.
Why Choose aesPlla®?
aesPlla® boasts a streamlined particle structure that requires significantly less injection force than traditional PLLA fillers, providing a smoother and more evenly-dispersed treatment. The formula does not migrate or attract water, allowing precise injection, exactly where needed. Thoroughly expert-tested, aesPlla® has no reported complications, greatly reducing the risk of nodules and granulomas that have been previously associated with traditional PLLA fillers.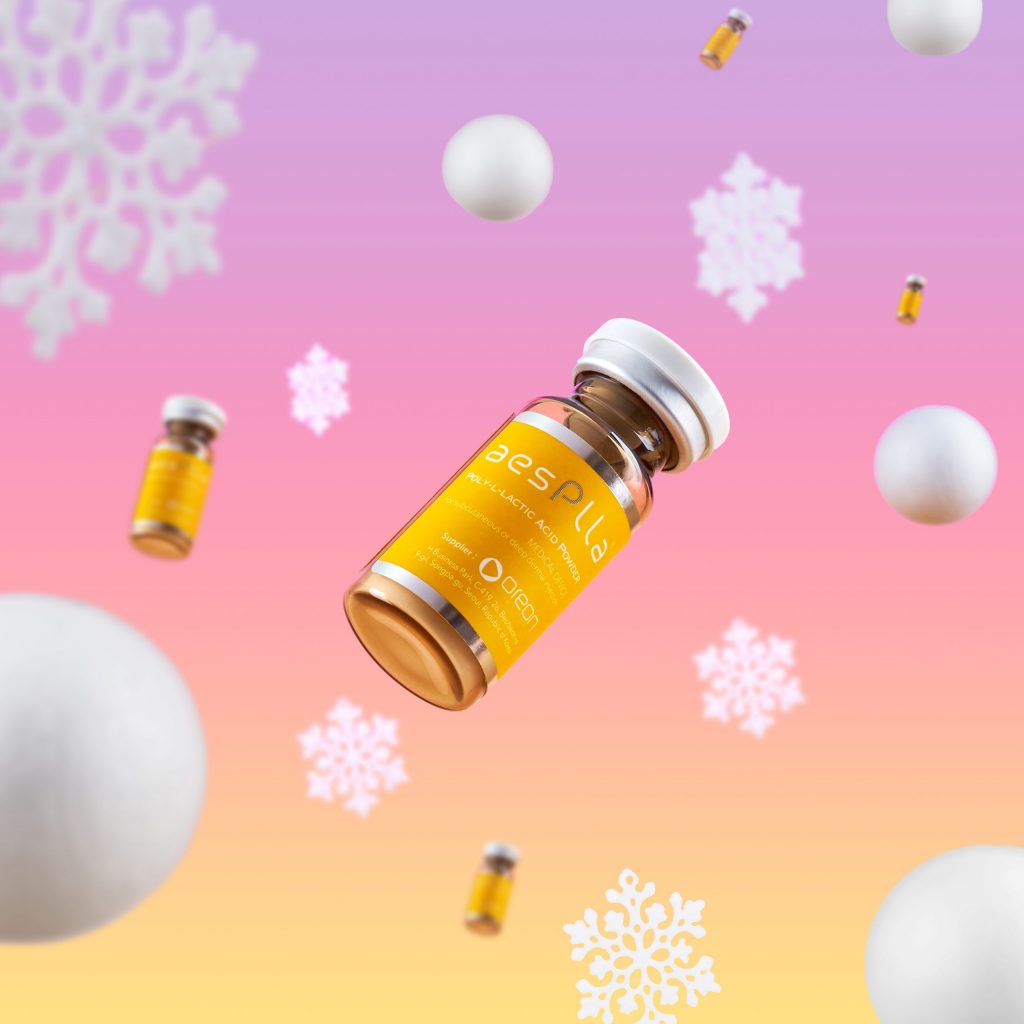 Who is the treatment suitable for?
aesPlla® is ideal for patients aged 30 and over, who are concerned with natural volume loss due to ageing or weight loss. It is particularly effective at rejuvenating mature skin types, helping to restore firmness and volume. The bio-stimulatory filler is designed to treat deeper dermal deficiencies and can be used to treat areas such as the marionette lines, cheeks and wrinkles. aesPlla® can also help to improve the appearance of atrophic scarring by stimulating new collagen production, offering an exciting new treatment option for patients with textural irregularities and indentations, as a result of blemishes.
When Will My Patients See Results?
Initial results from an aesPlla® treatment will begin to show from around four weeks post-treatment, as the skin begins to produce new collagen, making it ideal for patients who want to refresh their skin for the new year. Initially, a renewed glow will be visible, followed by gradual volume restoration over time. The treatment results offer greater longevity than those of hyaluronic acid fillers, lasting for up to 3 years.
The Future of Restorative Injectables is here. aesPlla® is set to disrupt the PLLA market with an advanced formulation and a notable safety profile, so there has never been a better time to up-skill in PLLA fillers. Offering visible volume restoration through collagen stimulation, Fox Group's latest innovation harnesses intelligent rejuvenation to create natural-looking and long-lasting results.
Shop aesPlla® at Fox Pharma or learn more about PLLA on our blog.