With the history of cosmetics spanning around 7,000 years old, makeup and beauty are somewhat present in almost every single society on earth. The evolution of makeup producing a vast array of cosmetics available on the market highlights the growth of the industry. Considering that before this, the practice was much more unconventional. For example, until the late 1800's – most lipsticks were a DIY project made with carmine dye and extracted from insects called cochineal.
However, with today's cosmetic advancements, we've long surpassed the days of potentially toxic lip concoctions. Instead, we've taken a more advanced approach to the industry and low and behold the birth of semi-permanent makeup. Semi-permanent makeup (SPMU) is growing due to the need for a simpler morning routine. This treatment is a type of cosmetic tattooing that uses pharmaceutical grade pigments. Practitioners will inject small amounts of pigment into the dermal layer of the skin as per this treatment. The overall aim of semi-permanent makeup is to help subtly enhance the features, like natural makeup, to perfectly complement the skin tone. Semi-permanent makeup applications are favoured due to their ability to shorten mirror time for those who have little time to spare. It allows SPMU users to subtly enhance their natural beauty without needing a six-step makeup routine or regular top-ups throughout the day. Furthermore, it's also a beneficial treatment for those who lack the skills to apply makeup, which helps improve day-to-day efficiency. Moreover, one of the biggest selling points of semi-permanent makeup is the benefit of ease!
For example, after a sweaty gym session, SPMU won't run or smudge meaning that patients don't have to compromise skin health by feeling the need to wear makeup during exercise. However, if makeup for the patient acts as a confidence-boosting veil, patients can still feel this confidence surge without the potential pore-blockage.
Semi-Permanent Eyebrows

Worth a staggering estimated 20M in the UK, semi-permanent eyebrows are becoming increasingly popular within the treatment industry. Seemingly, everyone is striving towards the social hashtag #BrowGoals with the average British female spending around £200 annually on perfecting their arches – without accounting for semi-permanent brows. Since the popular introduction of semi-permanent eyebrow treatments, many patients have opted for this method as a quick fix for the perfect 'brow-to'. There are various terms when it comes to defining semi-permanent eyebrow treatments, however, the most frequently known technique for semi-permanent brows is known as microblading.

Furthermore, it's important to note that there are major differences between microbladed brows and tattooed eyebrows. Contrastingly to the semi-permanent technique of microblading, tattooed eyebrows are more permanent due to the tattooed ink penetrating deeper into the dermis. Despite the colour fading over time, traces of the tattooing pigment are left in the skin tissue – rewarding tattooed brows with the more permanent title.

Microblading: The microblading, semi-permanent eyebrow technique is the secret to almost replicating a fuller brow look with a natural finish. Microblading has been defined as a type of eyebrow architecture as explained by microblading practitioner, Suman Jalaf. This treatment technique is carried out using a sloped blade pen with 10-12 small needles on the end – these needles don't penetrate the skin but instead, gently scratch the surface. The needle also finely implants realistic, hair-like strokes with medical-grade pigment into the epidermis layer of the skin for a natural brow finish. Most microblading treatments can last anywhere from 18-30 months with general upkeep needed. This is also dependent on various factors including the type of pigment and colour retention by the skin.

There are numerous reasons why people opt for semi-permanent brow treatments aside from liking the look of the results. Reasons may include those patients having sparse brows with little to no definition which reinforces the factor of ease. Having pre-filled brows results in a simpler morning routine without needing to fill them in with the use of cosmetics. Furthermore, as mentioned, the type of pigment used can affect the longevity of the results. Here at Fox Pharma, we would recommend using leading and trustworthy brands for maximum results including Tina Davies and Golden Eye – purchasable at Fox Pharma. These pigments are ideal for the use of semi-permanent eyebrow treatments, such as microblading.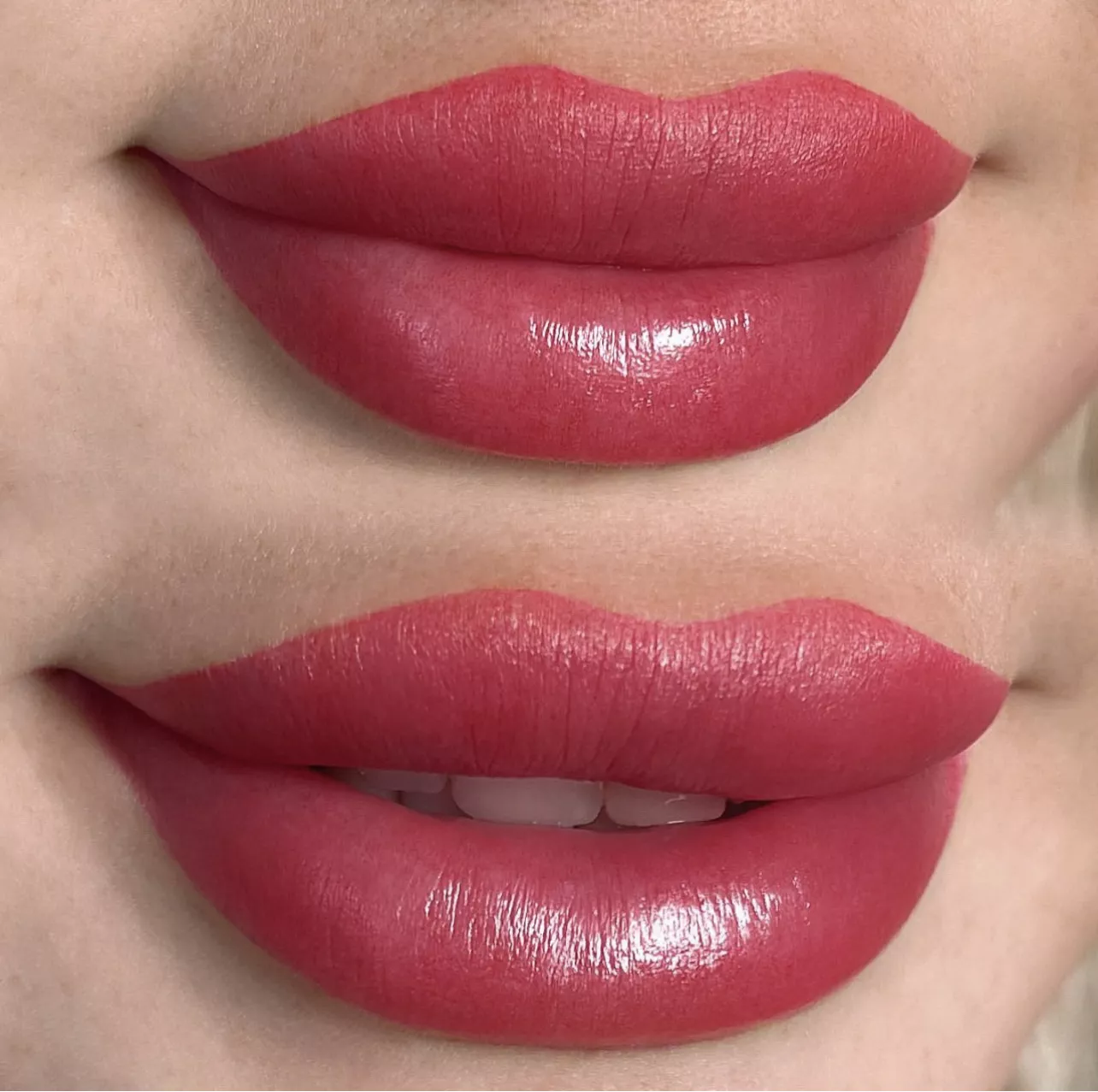 Semi-permanent lip blush, also known as lip blushing, is another form of semi-permanent makeup. Essentially, semi-permanent lip blush is a cosmetic treatment that enhances the beauty of the natural lip colour. This helps to give the illusion of a fuller, more defined lip without the need for the dermal filler route.

It is a tattooing method that involves a needle, tattooing machine to implant the medical-grade pigment into the dermis of the lip to help perfect the pout. As per the name, semi-permanent blush will fade in time, however, depending on the aftercare – semi-permanent lip blush treatments can be retained from 1-3 years. However, specialists recommend a colour boost procedure every 6-12 months to keep the colour looking revived.

Fundamentally, a lip blush is almost like a long-lasted, tinted lip balm. Patients opt for this treatment to help enhance lip symmetry, cover uneven pigmentation or to give the appearance of luscious-looking lips.

Again, this treatment is somewhat convenient for those who aren't partial to hourly top-ups throughout the day.

To achieve the perfect lip blush, we would recommend the Lust Lip collection by Tina Davies, available at Fox Pharma. The Lust Lip Collection contains a variety of shades from everyday neutrals and warm corals to deep berry tones. With long-lasting colour retention, the Lust Lip Collection is easy to use and suits a range of different client needs and preferences.
Semi-Permanent Makeup Summary
To summarise, semi-permanent makeup makes for an effective and time-saving treatment that boasts minimal downtime and pain.
Not only do they provide natural-looking results, but they also make an alternative solution to other more invasive treatments such as dermal fillers. However, as with any other aesthetic treatment, whether invasive or not – it's important you do your research and find a suitable, medically trained practitioner. Although these treatments are semi-permanent, they can still lead to disappointment with flawless results not always guaranteed. So, doing the appropriate research is crucial.
Shop the Semi-Permanent Makeup Collection at Fox Pharma.