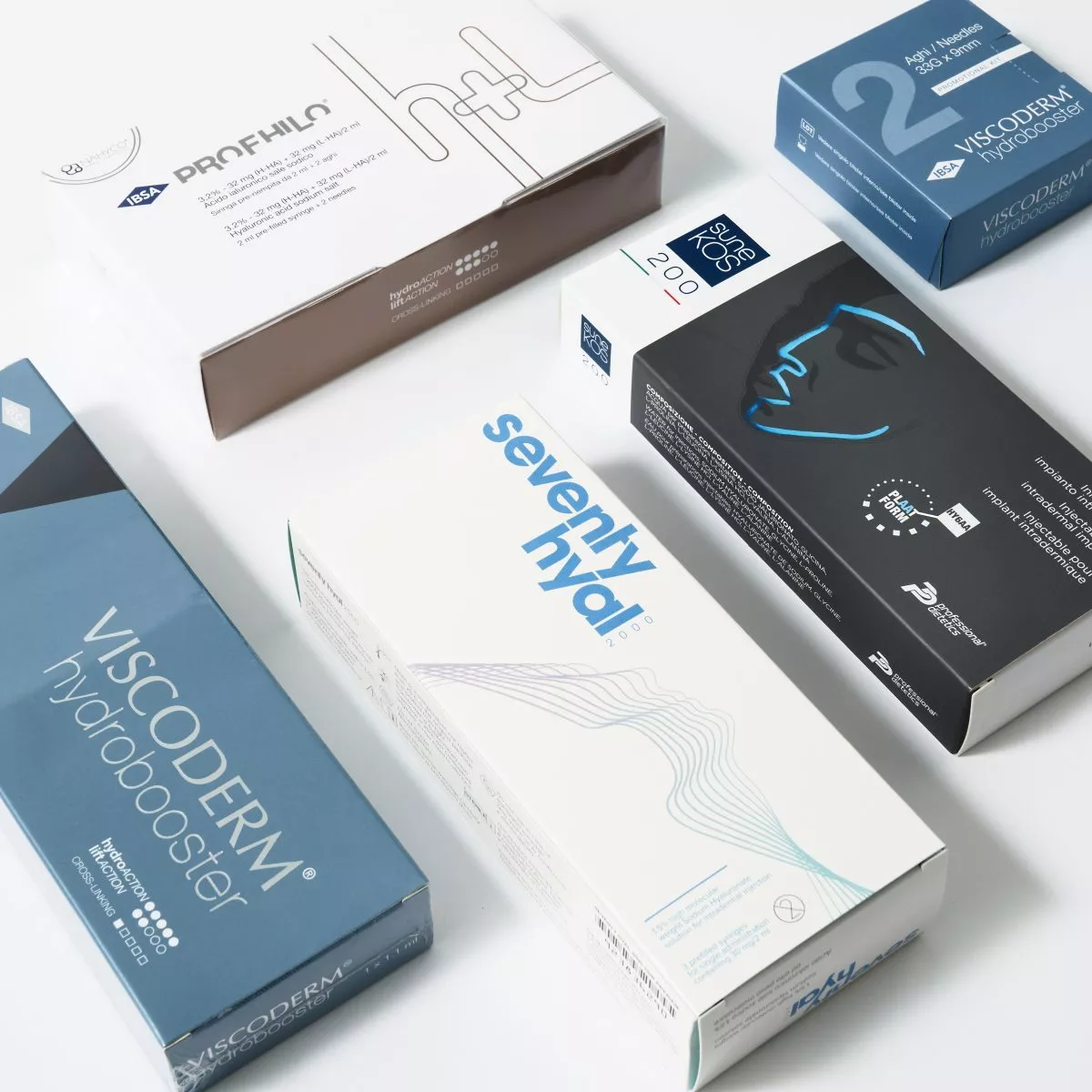 As the aesthetic industry looks ahead to 2023, experts are forecasting an exciting shift towards minimalistic, natural-looking treatments .As anticipated, the skin-focus of 2022 is set to dominate the aesthetics sector once again this year, with skin boosters paving the way for accessible and natural-looking tweakments. Skin boosters such as Seventy Hyal 2000 and Sunekos offer a subtle yet powerful solution for turning back the clock and restoring a youthful appearance. As a result, clinics around the globe are seeing a high surge of interest in these injectables with no signs of slowing down
However, with an impressive list of benefits to their name, it's unsurprising that skin boosters are amongst the most sought-after injectables in the aesthetics space. Their ability to rejuvenate dull, lacklustre skin has made them a popular choice for individuals seeking a refined solution to revitalise their look.
With an endless list of skin boosters available, including Seventy Hyal 2000, Sunekos, Profhilo and other skin-loving treatments, it can be a difficult decision to determine which injectable is best suited for your skincare aims and objectives.
Two of the most popular skin brightening treatments on the market today include Seventy Hyal 2000 and Sunekos. Both are highly regarded by skincare enthusiasts and practitioners and are considered clinic essential for many in the industry. Their popularity can be attributed to their specialised formulations and skin-enhancing benefits. However, choosing the right skin booster for your patients can be difficult.
To help you navigate this complex field, let's delve deeper into Seventy Hyal 2000 vs Suenkos.
About Seventy Hyal 2000
Seventy Hyal 2000 is a skin-loving injectable that harnesses the power of high molecular weight hyaluronic acid (>2000kDa) to deeply hydrate and revitalise the skin.
Formulated with a remarkable blend of bio-stimulatory ingredients, this injectable not only improves hydration levels within the skin but also encourages the production of collagen and elastin, resulting in a fresh-faced appearance.
Whilst hydrating the skin on a cellular level helps to refine the appearance of sunken hollows and fine likes, this injectable skin booster goes far beyond moisturising the skin.
Unlike traditional dermal fillers, Seventy Hyal 2000 is specifically designed to enhance hydration and rejuvenation rather than adding volume and definition to the injected area. This makes Seventy Hyal 2000 a versatile option for a wide range of patients, including those looking to refresh and replenish the skin on the face, lips, neck, décolleté, and hands.
Hailed for its transformative results, Seventy Hyal 2000 has been crowned as The Next Generation Skin Booster after accumulating a long list of positive reviews from both patients and practitioners.
Seventy Hyal 2000 Material Properties
Unlike other skin boosters available on the market, Seventy Hyal 2000 possesses a unique formulation that gives this injectable its stand-out qualities.
As explained on the Seventy Hyal 2000 website,The Next Generation Skin Booster contains a solution of sterile, pyrogen-free, viscoelastic sodium hyaluronate (also known as hyaluronic acid). Hyaluronic acid (HA) is a natural substance. It is present in the body wherever moisture is stored. It is the basic substance of the skin which consists of up to 55% sodium hyaluronate.
The difference in the treatment with Seventy Hyal 2000 is the introduction of active fragments of HA at different molecular weights. Biological functions elicited are differentiated according to HA molecular weight.
Seventy Hyal 2000 contains high molecular weight > (2000 kDa) sodium hyaluronate (HA) 1.5 % obtained by bacterial fermentation without any chemical modification. Other ingredients: Sodium Chloride, Disodium Phosphate 2H20 Monosodium Phosphate 2H20 and water for injection.
What Else Should We Know About Seventy Hyal 2000?
Aside from transforming the skin from lacklustre to luminous, Seventy Hyal 2000 also holds other desirable qualities that both practitioners and patients are on the search for.
Seventy Hyal 2000 can be injected into the lips to mimic the effect of lip balm on a deeper level.
84% of patients agreed that Seventy Hyal 2000 made their skin appear brighter
Results are expected to show immediately with complete outcomes appearing two weeks after the treatment.
For patients, Seventy Hyal 2000 is a better cost-effective skincare option in comparison to investing in a six-step skincare routine; Initially, 2 to 3 treatments of Seventy Hyal 2000 4 weeks apart will be required to achieve the desired result. In some cases and depending on initial skin quality a fourth treatment may be needed. Treatments will need to be topped up every 6-12 months, depending on skin quality.
91% of patients agreed that their skin felt deeply hydrated
Seventy Hyal 2000 has a versatile injection protocol. Multiple methods of injection can be used such as the BAP technique or multiple manual injections to the mid-dermis level as and where needed.
About Sunekos
Similarly, Sunekos is a Skin Booster that is designed to deliver rejuvenated, natural-looking results.
Based on a patented hyaluronic acid (HA) and amino acid formulation, Sunekos has been designed to restore elasticity and radiance to the skin, whilst stimulating the skin's own production of collagen and elastin. The unique formulation of the Sunekos range has been applauded for its regenerative approach to injectable skincare, aiming to transform the skin from the inside out.
Sunekos, similarly to Seventy Hyal 2000, is an exceptionally versatile treatment that can be used in a range of applications including the face, undereye, neck and decolletage.
What's The Difference Between Sunekos 200 and Sunekos 1200?
The Sunekos range is split into two separate treatments, Sunekos 200 and Sunekos 1200.
Many practitioners find Sunekos 200 particularly effective when treating the periocular area, to reduce the appearance of dark circles and to refine the appearance of wrinkles on the forehead. Typically, Sunekos 200 is more popular amongst practitioners as this skin booster can treat various indications including skin tone, premature ageing, dryness, solar elastosis, acne scarring and sun damage. This injectable has been developed to improve skin quality rather than replace lost volume.
Sunekos 1200, on the other hand, is ideal for use as a booster in conjunction with Sunekos 200 treatments. This injectable is an advanced and natural skin booster with unique antioxidant properties, specifically targeting wrinkled and damaged skin. When utilised in combination with Sunekos 200, the combined treatments are intended to protect fibroblasts and structural elements of the dermis. Essentially, Sunekos 1200 is an enhancer for Sunekos 200, working to increase the subtle volume and plumpness of the skin.
Both should be used together if the patient's skin requires extra structural support and development in hopes to improve sagging skin or for more severe wrinkles.
Sunekos Material Properties
Sunekos 200 is a class III medical device, comprised of small bottles containing 100mg of sterile and apyrogenous lyophilised of Glycine, L-Proline, L-Lysine HCP, L-Valine, L-Alanine and sterile vials containing sodium hyaluronate (30mg in 3ml of distilled water).
Ref: https://www.sunekos.com/wp-content/uploads/2019/03/Advertorial_Sunekos-200_v.2.pdf
What else should we know about Sunekos?
Amazing for rejuvenating the deeper layers of the skin, the most desirable benefit of the Sunekos range is the addition of antioxidants in the formulation – added to repair and rebuild the skin.
Some other key features of Sunekos include:
Stimulates fibroblasts in the skin
Creates natural enhancements and rejuvenation
The initial treatment plan consists of four sessions, spaced 1-2 weeks apart based on the target area. After three months, the full results become visible. Studies indicate that the effects persist even after half a year. To sustain the results, follow-up treatments may be needed, which can range from occasional sessions to a full course once or twice annually.
Injection methods include the interstitial fluid technique and the reverse interstitial fluid technique
Seventy HyaL 2000 vs Suenkos: Which skin booster is the best?
While the Sunekos line has been a popular choice in the aesthetics industry since 2017, new skin boosters like Seventy Hyal 2000 are gaining attention for their innovative formulations.
As the skin booster market evolves, aesthetic professionals and consumers alike are drawn to the newer advancements in skin booster technology. While Sunekos primarily targets the deeper layers of the skin, Seventy Hyal 2000 combines bio-stimulation with immediate radiance-enhancing benefits, offering a hybrid treatment approach.
Furthermore, Seventy Hyal 2000 offers not only a more advanced and comprehensive solution but also a more budget-friendly option for both patients and practitioners. With its cost-effectiveness, patients can enjoy improved skin rejuvenation results without breaking the bank, while practitioners can offer their clients a more accessible solution. The cost-saving benefits of Seventy Hyal 2000, combined with its superior results, make it a highly appealing option for anyone looking to enhance their appearance.