Read this before you book your skin booster or dermal filler appointment…
As two of the most popular non-surgical aesthetic treatments in the industry today, skin booster and dermal filler searches are top of the SERP (Search Engine Results Page) with many users searching for the answer to 'skin boosters or dermal fillers?'. With the influx of new treatments being introduced across the aesthetics industry and the sector showing no signs of slowing down, it's important that both patients and practitioners alike understand the core differences between the two injectable treatments. So, what is the difference between skin boosters and dermal fillers and which injectable will help you to achieve your goal?
First, it's important to address why the initial confusion between skin boosters and dermal fillers is there in the first place – aside from them both being skin injectables. Skin boosters are often mistaken and misidentified as dermal fillers because, like traditional fillers, skin boosters contain Hyaluronic Acid (HA) as their primary ingredient. However, there are still key differences between both injectables and stark contrast in the results between them; each injectable is designed to deliver two different objectives.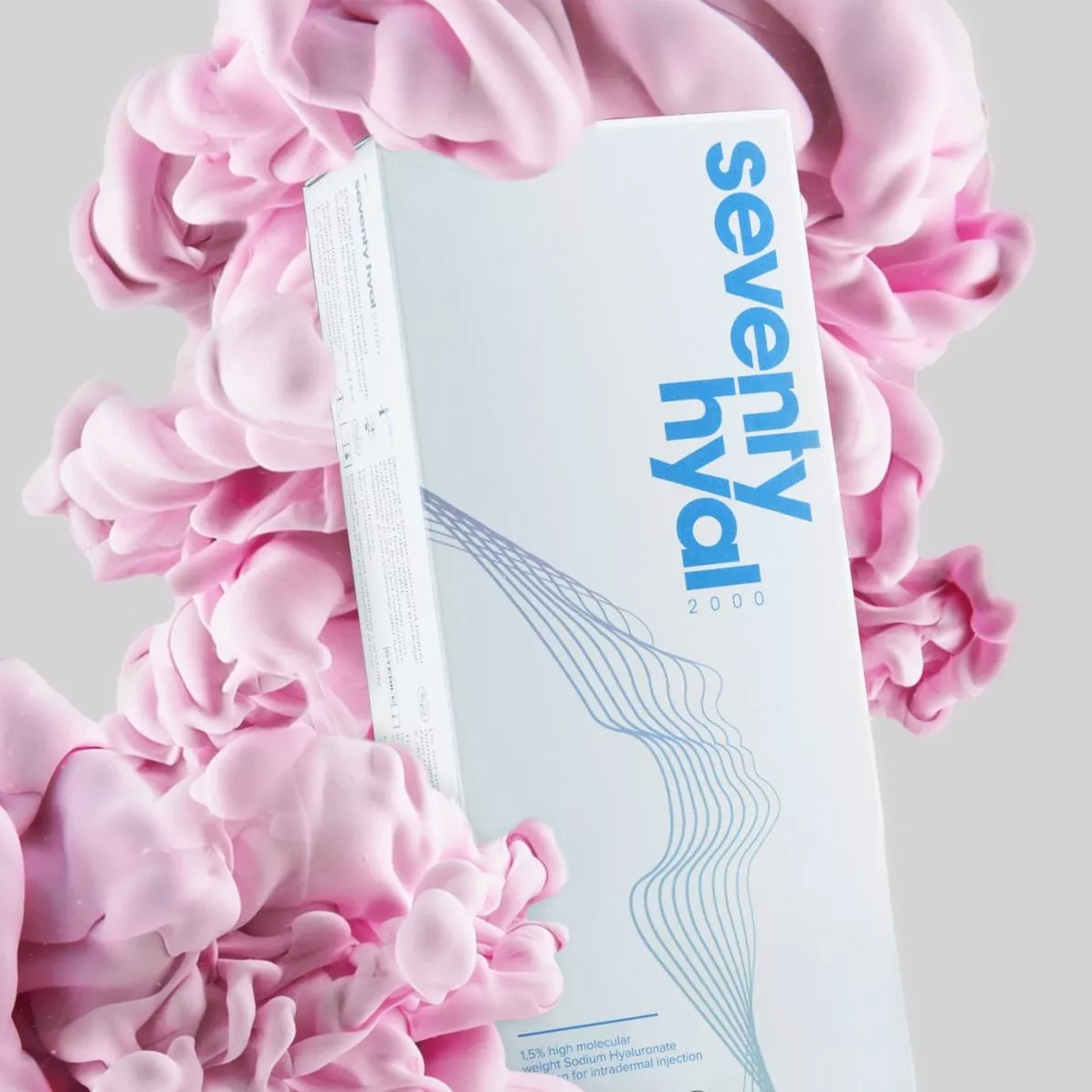 Skin boosters work to replenish and revitalise the skin with hydrating properties. Aiming to improve the tone, texture, and appearance of the skin rather than increasing the volume of treated areas – skin boosters are injected to aid in the overall quality of your skin. The key difference between skin boosters and dermal fillers is that skin booster's function is to restore hydration and moisture, not volume.
Furthermore, skin boosters differ from dermal fillers due to their thinner consistency – hence their inability to add volume like a regular dermal filler. Instead, skin boosters work from the inside out and provide patients with a glow from within – rejuvenating the tissues and providing skin-deep moisture. The longevity of skin boosters will differ depending on various factors such as initial skin quality, maintenance, the ingredients etc. 
One skin booster that provides incredible results is Next Generation Skin Booster, Seventy Hyal 2000.  The longevity of results can vary between individuals however, results are expected to show almost immediately with full results showing two weeks post-treatment. If, however, you choose not to maintain the skin treatment with further top-up treatments – the skin will return to its pre-treatment state over time. 
Seventy Hyal 2000 is formulated with one of the highest molecular weights of Hyaluronic Acid (>2000kDa) which works to surcharge the skin with an intense flood of moisture. Simultaneously aiding the production of new collagen and elastin within the skin, Seventy Hyal 2000 is the perfect skin rejuvenation injectable to help tackle skin texture, laxity and crepiness.  
On the contrary, dermal fillers are typically the go-to for augmenting the shape and structure of the face. Furthermore, these injectables focus on restoring lost volume, lifting the face, and enhancing the natural contours of the face. In the instance of dermal fillers, the hero ingredient Hyaluronic Acid (HA) is used to help add volume and plumpness to the skin as an alternative to aiding in the skin's moisture levels. This is achieved due to the crossed linked Hyaluronic Acid (HA) and a malleable consistency that creates immediate and long-lasting volume.
Ultimately, dermal fillers are perfect for those lacking volume and definition and can be used on areas including the lips, chin, cheek, jaw, and nose. Rather than aiding in the quality of the skin, dermal fillers aid in the appearance of the skin – expertly injected to subtly reshape and contour.
A fantastic dermal filler to look at is The Nation's Favourite Dermal Filler, REVOLAX. This dermal filler is a non-animal, cross-linked, soft tissue filler formulated with the highest quality Hyaluronic Acid (HA). Furthermore, this specialised dermal filler has a low percentage of product migration meaning that once injected, the product is more likely to stay close to the injection site with precision and accuracy. 
REVOLAX is an incredible dermal filler that works by adding volume to facial tissue – working to improve wrinkles and folds whilst restoring a smooth appearance to the face with plump, rejuvenated volume. Plus, with this dermal filler range – a 'one size fits all' doesn't apply to REVOLAX with three different dermal fillers to form the range including REVOLAX Fine, Deep, and Sub-Q.
REVOLAX Fine is the most lightweight dermal filler within the REVOLAX range. Treatment areas include superficial lines, crow's feet, glabellar lines and neck wrinkles. REVOLAX Deep is a thicker and longer-lasting gel used for nasolabial folds and augmentation of the cheeks, chin and lips. REVOLAX Sub-Q is the thickest gel within the dermal filler range. Best suited for the cheek, chin, nose and jawline, REVOLAX Sub-Q structures and moulds for deep to extremely severe wrinkles.
Each of these dermal fillers differ in thickness and are indicated for different usages across the face. However, they all still flaunt the same amazing properties.  
In summary, despite having similar ingredients, skin boosters and dermal fillers both provide solutions for different skin objectives. So, if you're looking for more definition and a plumper pout – dermal fillers will be your go-to. Alternatively, if you're in hopes of gorgeous, glowing skin – skin boosters are your skincare solution.
For CE marked skin boosters and dermal fillers from a pharmacy you trust, shop Fox Pharma.