Following suit with the post-pandemic evolution of the beauty industry, semi-permanent makeup has adopted a more natural-looking approach in recent years. Providing a hint of colour to enhance and define the appearance of the lips, lip blush can help to create a more uplifted and youthful look. So, what is lip blush? We explore this trending technique and the summer's rising demand for lip-blushing treatments.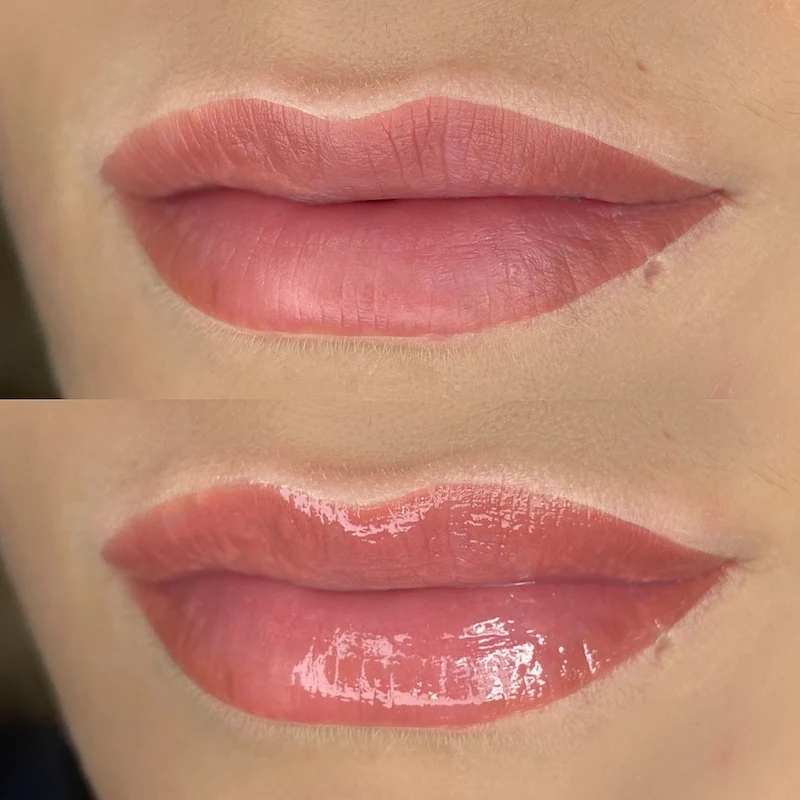 What is lip blush and is it natural-looking?
The lip blush technique involves cosmetically enhancing the lips with a semi-permanent tattoo. The colour-correcting lip treatment utilises water-based cosmetic tattoo inks to help correct tonal irregularities and asymmetry, creating the illusion of fuller lips. The tattoo can create a deeper or more vibrant-looking natural lip colour while enhancing its definition. This technique is intended to create more subtle results, replicating a water-colour effect. The blurred, soft-focus colour finish replicates the look of a natural-looking lip stain, allowing clients to wake up feeling fresher and more put-together.
How long does lip blush last?
As the skin of the lips is thinner, this can make it harder to deposit and retain colour. This means the client's desired intensity may have to be built up over the course of a few sessions. Lip blushing can last up to three years, gradually fading over time. The colour can be maintained with top-ups, or the tattoo will eventually fade into the natural lip colour. Lifestyle factors can also impact the longevity of clients' results, such as using skincare products with active ingredients and sun exposure.
Does lip blush hurt and how long does it take to heal?
Most clients find the pain mild and bearable during the lip-blushing process. It is often compared to a light pinching or scratching sensation. Some practitioners may use a numbing cream beforehand to ensure the most comfortable treatment experience.
Whilst lip blushing isn't as deep as a regular tattoo, there is still a period of healing before clients can enjoy the final results. The lips will initially appear darker, warmer and more vibrant, with some swelling. The colour will usually soften by 30-50% to reach the final result. A lip blush will usually take around four weeks to fully heal and, at this point, the results will be much more natural-looking.
During the healing period, clients may experience itching or scabbing. Therefore, it is vital to recommend a moisturising lip balm as part of the aftercare.
Does lip blush make lips bigger?
Whilst lip blushing doesn't add volume like dermal fillers, the treatment can create fuller-looking lips by offering a more defined shape. The treatment can create a lip-liner effect, disguising the look of asymmetry.
Can you do lip blush after lip filler?
Combining semi-permanent makeup with lip filler offers a guaranteed way to create a plumper and more defined pout. However, treatments must be spaced out to enable each procedure to fully heal. We recommend waiting six months after your lip filler procedure to undergo a lip blush. Alternatively, if a client has just had a lip tattoo and is seeking dermal filler, allow two to four weeks for the tattoo to heal prior to injection.
Fox Pharma lip blush
At Fox Pharma, we stock a range of products that can be used to create the perfect lip blush. They are:
Tina Davies Lip Ink Envy Collection
Tina Davies Lip Ink Lust Collection
Tina Davies Shading Solution
Lollipop Pink Golden Eye Pigment
Tina Davies Lip Ink Envy Collection
The Ink Envy Collection features six lip blush stains, pigments and lip pencils in a selection of berry, pink and nude hues. The set enables practitioners to trial shades on their clients, allowing them to choose the lip blush colour story that's best suited to their complexion, before committing to the procedure.
Tina Davies Lip Ink Lust Collection
The vegan and cruelty-free pigments heal true-to-tone, allowing clients to be confident in their colour selection, with high lightfastness to maintain stability and prevent colours from shifting. The inks are ready to use and do not require mixing, offering a high-pigment load for vivid results and up to 90% colour retention.
The Ink Lust Collection offers six lip blush stains with corresponding pigments and pencils. The set offers a warmer colour story than the Envy collection, featuring red, coral and pink. To ensure a natural-looking result, it's essential to match the client's undertone to their lip blush shade.
Tina Davies Shading Solution
Ideal for creating a light, airbrushed effect, the Tina Davies Shading Solution can be used to dilute pigments. The vegan and cruelty-free formula is gamma-ray sterilised to industry standards, working to dilute the pigment load to reduce colour intensity. For manual shading, the brand recommends diluting the pigment by 50-80% utilising the shading solution.
Lollipop Pink Golden Eye Pigment
For a pop of colour, the Lollipop Pink Golden Eye Pigment provides a luminous magenta-rose hue to create a fresh and youthful-looking appearance. The colour can be built up to an intense finish or diluted for a sheer effect.
Shop all semi-permanent makeup at Fox Pharma. If you'd like to find out more about lip blushing, don't hesitate to contact us.