When summer is just around the corner, treatments and injectables are always on hand for a feel-good season that looks even better. Fat-dissolving injections are front and centre of the queue. One particular brand of fat-dissolving injections that is on top of most people's wishlists is Aqualyx. It's a popular alternative to other fat-reduction methods due to its versatility and effective results. What is Aqualyx, though? Find out everything you need to know below.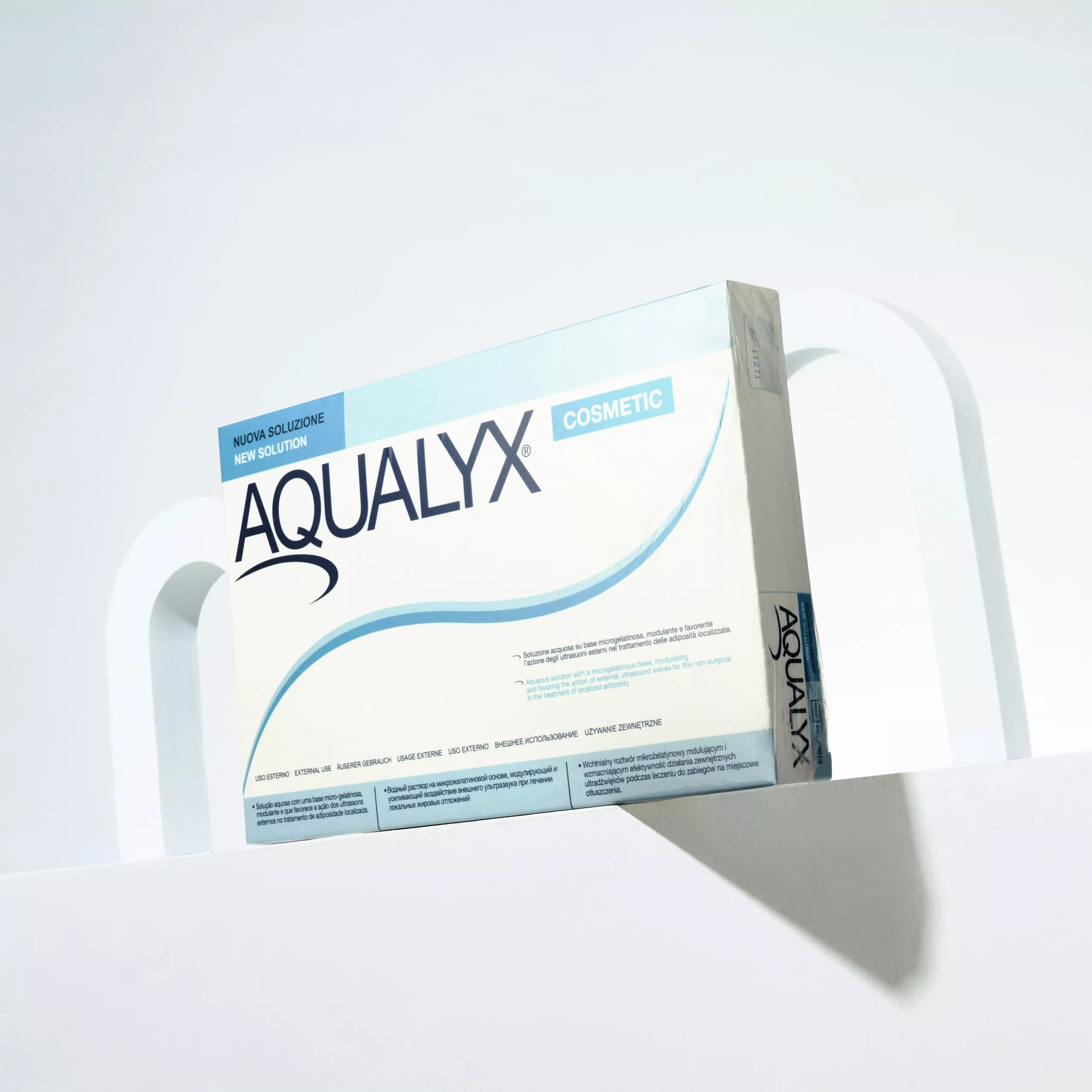 What is Aqualyx?

Aqualyx is an injectable, gel-based, aqueous solution that dissolves fat and is biocompatible and biodegradable. This fat-dissolving injectable works by breaking down and dissolving localised pockets of fat in various parts of the body, including under the chin, the stomach, thighs, flanks, hips and arms. Aqualyx eliminates stubborn pockets of fat on the body that are difficult to lose despite best efforts to improve diet and exercise.

Once injected, Aqualyx works by liquefying the fat cells, destroying them permanently and releasing the lipids through the body's own lymphatic system. Fat treated by injection with Aqualyx is unlikely to return; the fat will be permanently dissolved, providing the patient keeps a healthy lifestyle to maintain the fat loss. In comparison to surgeries, Aqualyx is significantly less invasive and makes for the perfect non-surgical alternative to more traditional fat-loss methods, like liposuction.
Advantages of Aqualyx
There are numerous advantages of opting for a treatment with Aqualyx over a surgical solution, including procedure and treatment time. Depending on the injection area, the procedure times can differ. However, most appointments can take up to an hour in comparison to invasive surgery, which usually takes between one to three hours depending on the size of the area treated.
Additionally, despite recovery times differing depending on the treatment intensity, patients can expect to return to their normal activities almost immediately. However, this is dependent on the area of treatment as some are more sensitive than others and may feel tender for up to two weeks post-treatment.
With Aqualyx treatments, results are quick to show. However, it's recommended to have between two and five sessions, especially over larger areas, to see a significant result. For example, when treating under the chin, patients may require one to three treatments, whilst the stomach area may require around eight sessions to be successful.
Who can't have Aqualyx Treatments?
Like all cosmetic treatments, you must be 18 years old to be eligible for the treatment. Anybody under the age of 18 is not permitted to have the injectable. Also, Aqualyx injections are not suitable for pregnant or breastfeeding women and it is typically suggested to wait six weeks after birth or after stopping breastfeeding. Furthermore, those suffering from skin conditions in the area they wish to be injected should also not have Aqualyx. The injectable should also not be used on patients who suffer from pathological conditions such as heart disease, cancer, and arthritis.
Are there any Side Effects of Aqualyx?
As with most injectable treatments, side effects can entirely depend on the treated area and the patient. Not everyone experiences side effects. However, when they do, it tends to be redness and swelling. Also, the area can feel sensitive and tender, and patients may also get some bruising. However, all these effects tend to go away within a few days.
Are Aqualyx Injections Painful?
Pain is dependent on an array of factors including the patient's pain threshold, the practitioner, and the area of injection. However, patients have reported feeling mild discomfort after an Aqualyx injection. As with all treatments that involve needles, the injections may sting for a few seconds but, overall, it is a well-taken treatment and numbing agents can be used alongside it.
Are There any Misconceptions About Aqualyx?
Despite being a fat-dissolving solution, Aqualyx is not a fat-loss treatment and should not be considered one. Aqualyx is designed for localised areas of fat that are more stubborn and difficult to get rid of if you are already maintaining a healthy diet and lifestyle.
How Many Treatments are Needed?
Depending on the area treated, two to four treatments may be required to fully dissolve the fat. Some further treatment may be recommended depending on the size of the area, which will be three to six weeks apart.
Aqualyx Treatment at Fox Pharma
Overall, Aqualyx makes for an effective and simple method to dissolve stubborn pockets of fat without the need for invasive surgery.
So, are you struggling with weight loss and looking to combat pockets of fat? Aqualyx treatment at Fox Pharma could be the ideal solution for you. If you have any questions about the Aqualyx procedure, don't hesitate to contact us today.