What is Aquashine Soft Filler?
The Aquashine product range combines a variety of skin-enhancing ingredients to refresh and revitalise the complexion. The range offers biphasic and monophasic properties, utilising cutting innovative biomimetic peptide technology, alongside and purified, cross-linked hyaluronic acid. Aquashine is available to buy online at Fox Pharma.
Key Ingredients:
Revofil Aquashine is a skin revitalisation mesotherapy treatment, formulated with non-crosslinked hyaluronic acid and a bioactive, skin-rejuvenating peptide complex. Four biomimetic peptides work in synergy to promote skin renewal, firm the skin, reduce the appearance of wrinkles and encourage a more even tone.
The treatment combines HA with a blend of 24 amino acids, including arginine, renowned for its anti-wrinkle effect, while 14 vitamins work to brighten and even the skin, offering antioxidant benefits to help reinforce the skin's natural defences against the effects of environmental aggressors. It is intended to reduce the appearance of fine lines and wrinkles, while supporting the skin's elasticity and radiance.
Check out our blog: Everything You Need to Know about Mesotherapy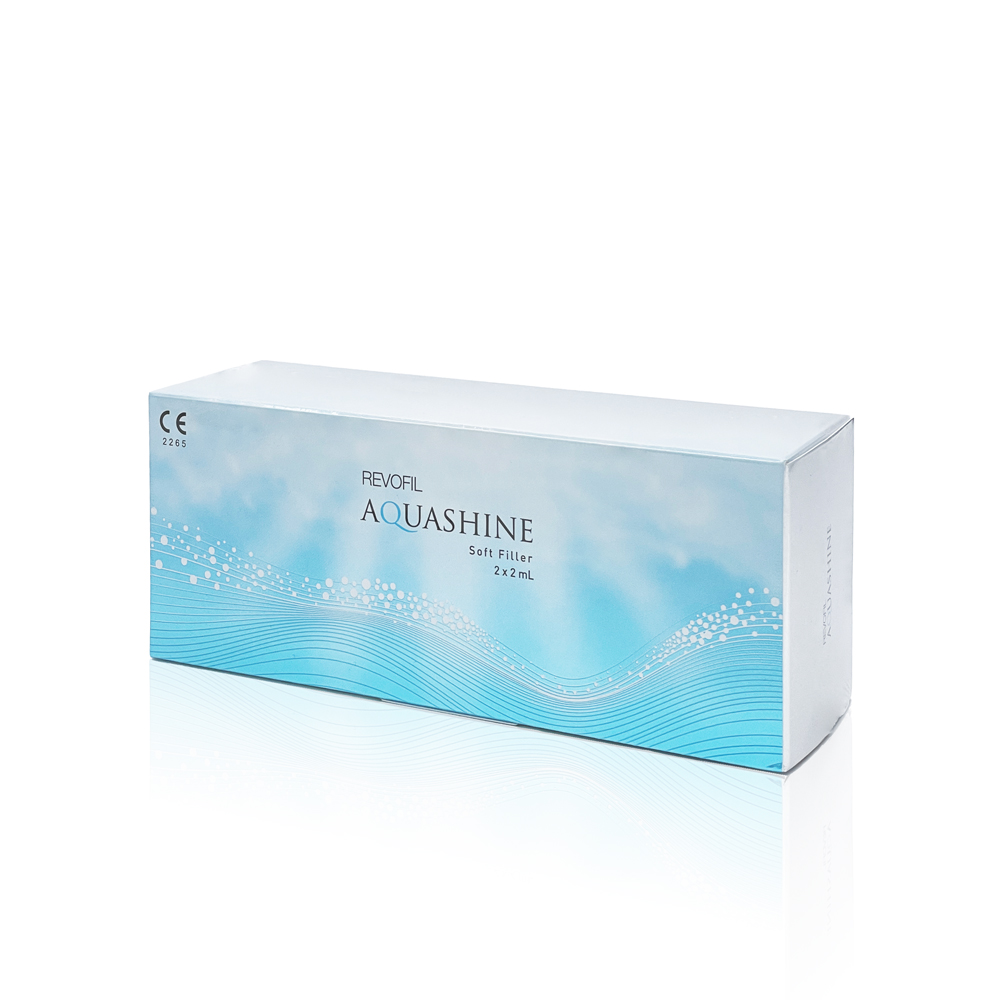 Product Benefits:
Aquashine is a mesotherapy product that is used for facial tissue rejuvenation, working to enhance overall skin quality and reduce the appearance of fine lines and wrinkles. It combines hydration in the form of hyaluronic acid, with firming peptides and additional active ingredients to improve radiance. The treatment also functions to stimulate the production of collagen and hyaluronic acid within the skin. Aquashine works to create a glowing complexion with a firming and restructuring effect, while helping to reduce the visible signs of ageing.
Learn more about Skin Treatments.
How to Inject Aquashine:
Aquashine can be used to treat the face, neck or décolleté area. Facial treatment areas include the forehead, perioral area and vertical lines above the lip. The recommended treatment dose is 2ml of product, this should be injected into the epidermal or superficial to mid dermis skin layers.
It is recommended for clients to undergo 3-4 sessions of Aquashine as part of their regular skin therapy regime. The procedure should be carried out at 3-4 intervals, to achieve optimal results. For more intensive skin therapy, clients may require 4-6 treatments, spaced two weeks apart.
How long does Aquashine Soft Filler Last For?
Treatment results last from 9-12 months on average, depending on the individual patient's metabolism and lifestyle factors.
Buy Aquashine online directly at Fox Pharma. Alternatively, explore the rest of our Mesotherapy range here.