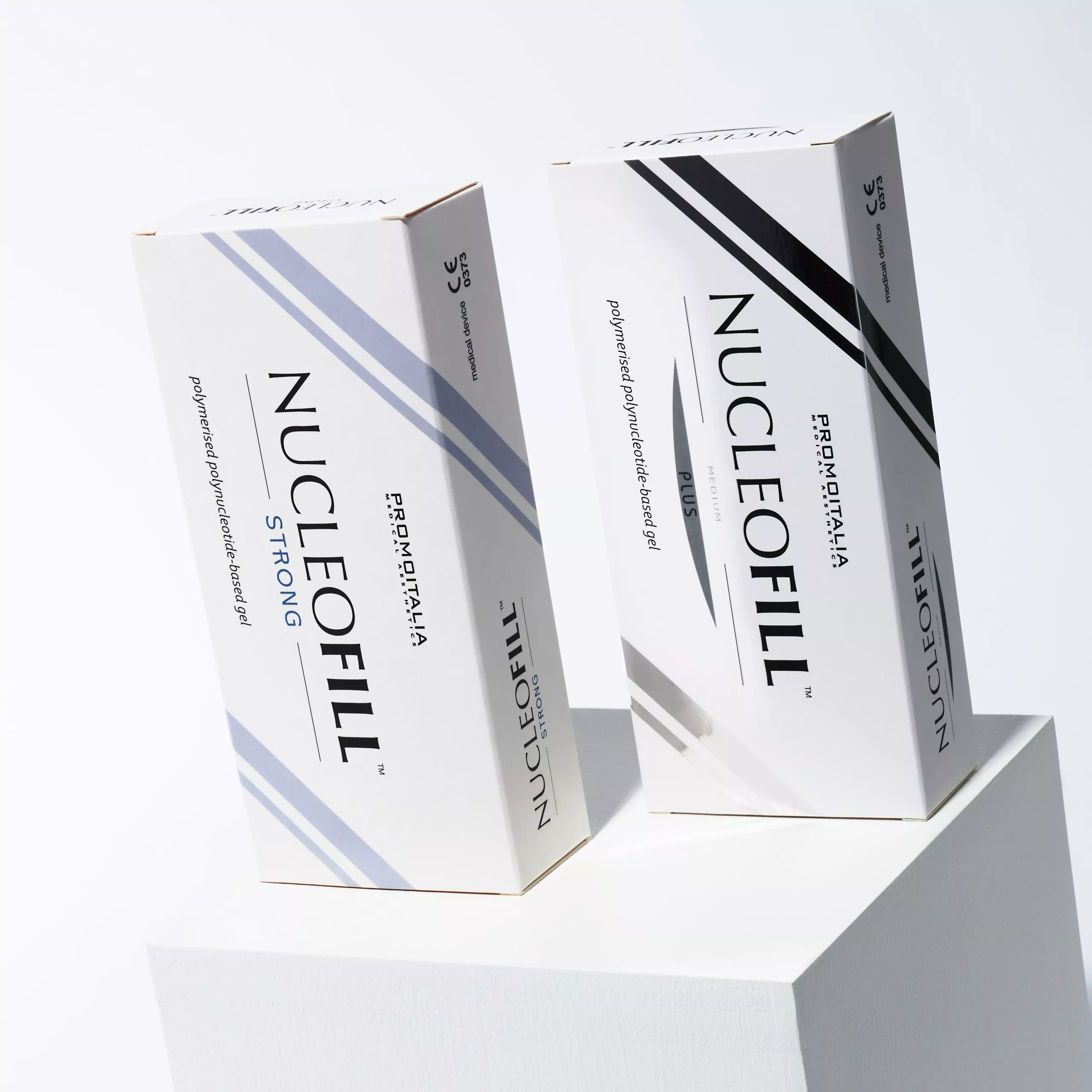 At Fox, we are always on the search for the latest innovations in the industry. With skin booster treatments dominating the market in recent times, our focus has turned to finding and sourcing the best solutions for feel-good skin that looks even better.  With skin boosters, AKA the new wave of injectables, taking over the aesthetics market – we at Fox introduce you to the Nucleofill range, as the exclusive UK pharmacy distributor. The range consists of three treatment products including Nucleofill Strong, Nucelofill Medium Plus (Hair) and Nucleofill Soft Plus (Eyes) – now exclusively available to purchase at Fox Pharma.
What is Nucleofill?
What is Nucleofill, and what exactly are its effects? For those who don't know, we are here to introduce this effective new treatment and explain its impressive rejuvenating abilities.
The Nucleofill range is a specialised collection of skin booster treatments with different objectives to help achieve an array of goals. These skin boosters act on three different levels: lifting, anti-oxidant, and hydrating.
Nucleofill is the new line of natural polynucleotide-based, bio-stimulating gels developed with a high viscosity for protecting and rejuvenating the skin. Perhaps surprisingly for a skin booster, it is not formulated with hyaluronic acid (HA). Instead, the Nucelofill product range contains high molecular weight polynucleotide chains.
The polynucleotide chains activate two types of membrane receptors in the skin's fibroblasts. Or rather, Receptor CD39 and Receptor CD40. As a result, the two main effects on the skin include the stimulation of type 1 collagen production and the maturation of fibroblasts in the myofibroblasts.
Moreover, the polynucleotide chains have specialised biochemical peculiarities that give the product high viscoelasticity and the ability to bind to a considerable amount of water molecules. Additionally, Nucleofill's hydrophilic ability allows the injectable to provide an intense moisture surge to the skin and deep hydration in the tissue.
In addition to Nucleofill's long list of benefits, the skin-boosting injection also has an impressive bio-stimulating effect on the skin This scientifically proven skin biostimulation method contains polynucleotides that stimulate the skin to rebuild using a three-way mechanism.
Despite the fact that the Nucelofill range promises similar benefits, each singular product within the range is highly specialised to help achieve a different criterion.
Nucleofill Soft Plus
Nucleofill Soft Plus is a skin regenerating injectable developed especially for treatment on the most delicate parts of the face, such as the eye area, with a multidirectional mechanism of action. Nucleofill Soft Plus works to renew and refresh the skin around the eyes for a brighter and firmer appearance.
The newest bio-restructuring gel of the Nucleofill range is based on low molecular weight, highly purified, naturally derived polynucleotides – specifically created to improve the trophism of the periocular area. Nucleofill Soft Plus is a subtler alternative to tear trough filler and is safe for all skin types and can be done in combination with other treatments.
With Nucleofill Soft Plus, the effects are visible after the first treatment, but the recommended protocol is 2-3 treatments at intervals of 2-3 weeks. After the series, one treatment is recommended to maintain the effect every six months.
Shop Nucleofill Soft Plus here.
Nucleofill Medium Plus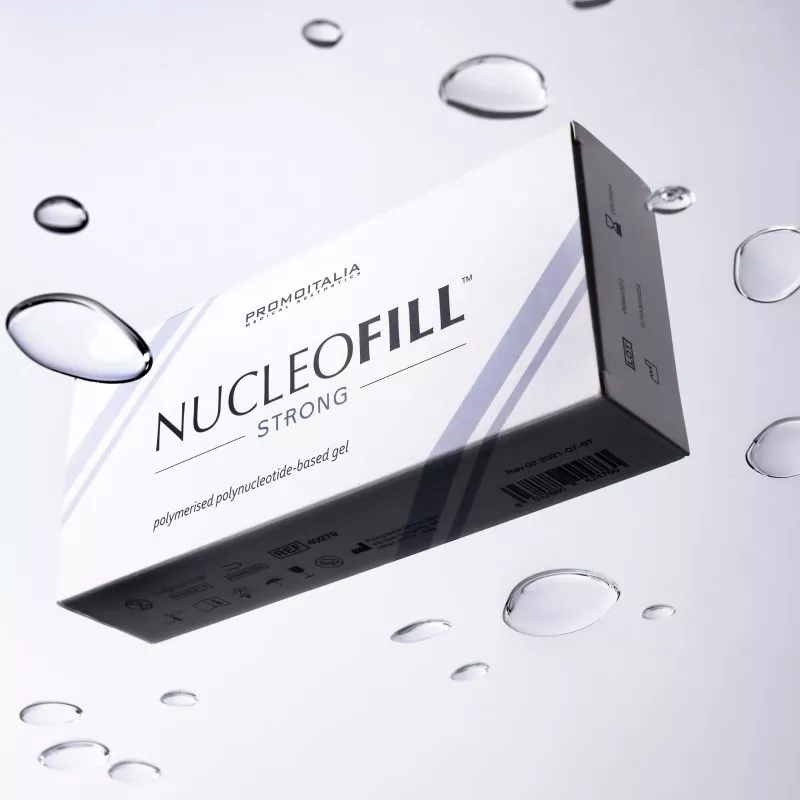 Nucleofill Medium Plus has a concentration of polynucleotides at 2.5% and has been specifically studied to improve the trophism of the hair follicle based on medium molecular weight and high-density polynucleotides. Furthermore, Nucleofill Medium Plus has shown significant efficacy in the treatment of androgenetic alopecia and in all cases of hair weakening due to the injectable's continuous bio-restructuring effect.
This injectable is recommended in all cases where the hair bulb is weakened. This includes the initial stage of baldness, androgenic alopecia, postpartum thinning, eyebrow thinning and thinning of the beard. For the most effective results, it is best to perform a series of 3-4 treatments every 2-4 weeks. After this series, it is recommended to have another treatment to maintain the effects of the injectable every four to six months.
As with other bio-stimulation treatments, the results will improve over time as more treatments are performed. This is related to the following systematic remodelling and regeneration of the skin. Shop Nucleofill Medium Plus here.
Nucleofill Strong
Nucleofill Strong is an innovative anti-ageing injectable, specially designed for skin renewal and bio-restructuring. Without altering the volume or shape of the skin, Nucleofill Strong works to rejuvenate and revive the skin with its antioxidant and moisturising properties. Furthermore, Nucleofill Strong also works to improve the appearance of lines and wrinkles in the face, whilst strengthening skin elasticity.
Nucleofill Strong is a bio-revitalising product that aids in a variety of skin concerns and provides significant and lasting rejuvenating effects – perfect for people who notice a loss of elasticity, signs of ageing, skin lacking radiance, and skin that requires deep hydration.
The polynucleotides contained in Nucleofill Strong stimulate cell renewal in an effective, long-lasting, and preventive way. Moreover, Nucelofill Strong has been formulated to work with all skin types, regardless of their maturity. Beneficial effects include a visible rejuvenating effect without altering facial features, reducing the appearance of wrinkles, creases, and firmness in the skin, and rehydrated skin.
Typically, Nucleofill Strong is administered using the BAP technique to lift the skin and improve the facial contour. A course of 2-4 treatments should be completed, where one treatment every 2-4 weeks is recommended.
Shop Nucleofill Strong here.
Revitalising skin booster treatments at Fox Pharma
We at Fox Pharma Limited are thrilled to have added Nucleofill to our roster. We hope we have helped to answer the question 'what is Nucleofill', and that you now have a deeper understanding of its powerful effects.
You can also shop our range of other Fox exclusives, dermal fillers, PLLA fillers and more in our collection.
If you have any questions about any of our products, you can email us at [email protected] or call us at 01925 320820. You can also submit a request and our team will get back to you with an answer shortly.