The dermal filler guide for a fresh look. P.S: Read this before you carry out an appointment.
In the character of the infamous 'new year, new me', we're all trying to find a solution for our exhausted-looking skin. The prolonged effects of the Christmas period are beginning to show and we're all looking to give our clients a quick fix to the Hollywood look.
As we continue to turn the page towards a clean slate with 2022, we know that it won't be without its challenges. Despite this – it's still crucially important to stop and smell the roses. There's still so much of life to show gratitude for and dermal fillers are at the top of our list this year!
We're still currently at the time of the month when our New Year's resolutions are still a concern. Not the main, but a concern. This means that the idea of improvement hasn't slipped away from us and still may be possible should we decide to take them up again. Amongst the resolutions and revolutions come all aspects of personal improvement – whatever they may be. From gym memberships to money manifesting to literal personal improvement AKA dermal fillers. And whilst personal improvements can present themselves in numerous ways, anything to make us feel better is a win-win.
The last year has seen an ever-growing surge in dermal filler treatments and to no surprise. With beauty ideals and standards constantly on the change, dermal fillers are becoming increasingly popular. Dermal fillers have been nicknamed the future for non-surgical enhancements and with the acceleration of changing trends – it's almost hard to keep up with the demand. Dermal fillers are proof that the beauty boom lives on and so we welcome the trends set to dominate 2022.
Lets get into The Dermal Filler Guide.
What are Dermal Fillers?
Dermal fillers can be used to improve appearance in a variety of different ways. Depending on your client's concerns or insecurities, dermal fillers can be injected into numerous points on the body to address these perceived flaws. These aesthetic applications are a super versatile treatment and can be administered to confront an array of physical imperfections. Dermal fillers can help to restore a youthfully revived look or to enhance the natural contouring and sculpting of the features. Also known as injectable implants, most dermal fillers are formulated with an injectable gel. Depending on the filler brand you opt for, the contents of the gel will vary. However, most, if not all dermal fillers contain a high concentration of hyaluronic acid. As noted in our 'Skin Boosters That Beat All the Blues' blog, we mention the benefits of hyaluronic acid. This includes aiding the skin in maintaining hydration whilst adding moisture surging benefits. Results will differ depending on the type of filler you use, and this will have a great impact on how long your results last.
Overall, dermal fillers are seen to be an adequate option to help for a youthful look. They aid in diminishing fine lines, wrinkles and add volume to the face and body.
Why do people opt for Dermal Filler?
The increasing popularity of dermal fillers can be attributed to an abundance of reasons. However, one of the most popular reasons for dermal filler treatment is to combat the natural signs of ageing. Everything from age to environmental factors can cause those dreaded wrinkles and fine lines. In addition to tackling ageing factors, for the younger demographic, dermal fillers are usually an option for replenishing and adding volume. Typically, the younger generations aim with dermal filler is for facial contouring and plumping efforts.
REVOLAX Key Opinion Leader Dr Motox says: "REVOLAX dermal filler can be used for any age range – for younger clients, we use it to help contour, lift and hydrate things. For older clients, we can use dermal filler to replace volume lost to natural ageing".
The truth is that the reason why people opt for dermal filler is down to personal preference. There's no standard guide for why people do it but if you had the chance to turn back the clocks of your skin for example – would you take it?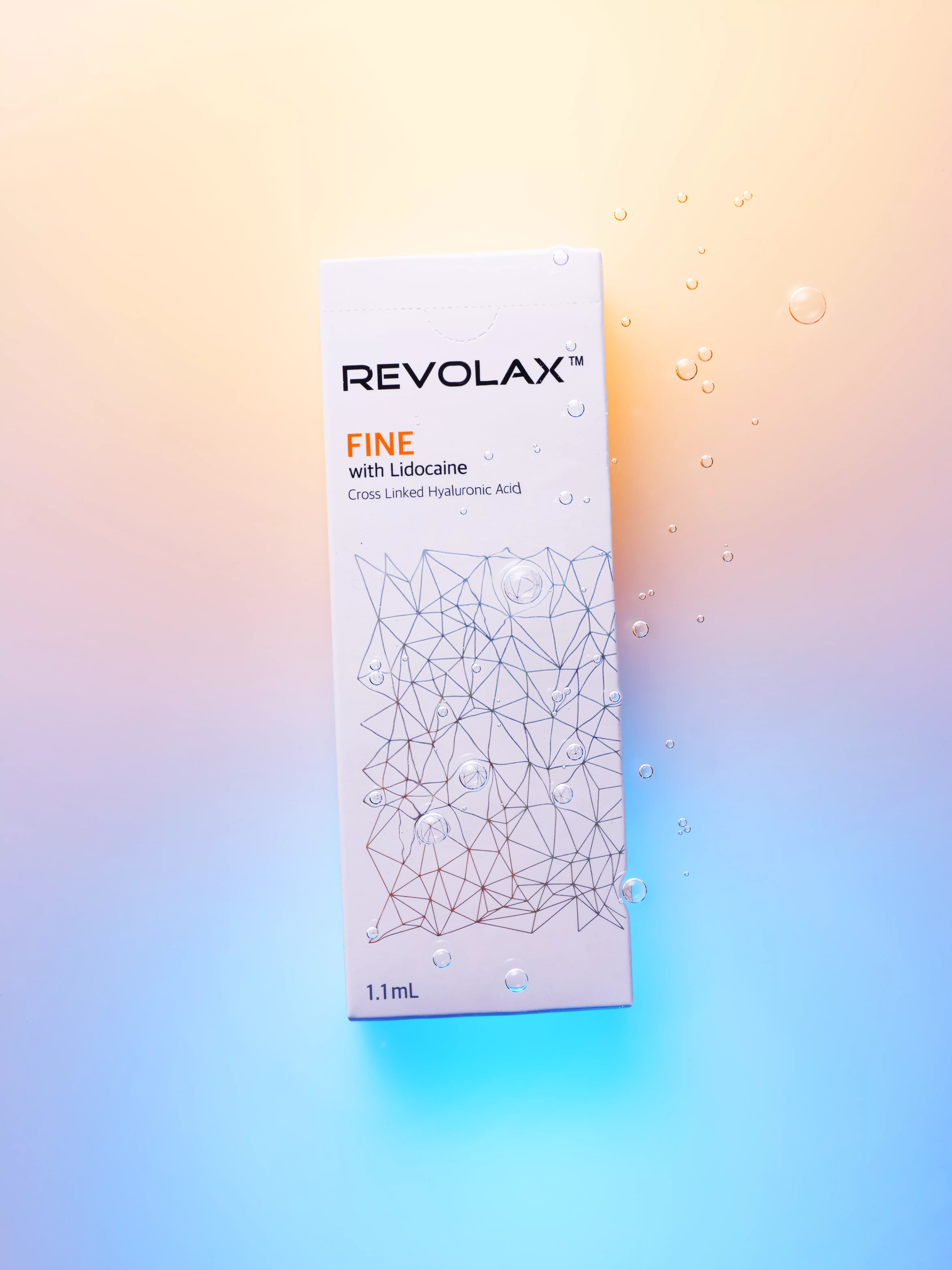 How Do You Choose the Best Dermal Filler? With the surge of dermal filler appointments on the rise, various dermal filler products, both new and old, are dominating the market. With new products being trialled and tested, it's crucial to select only the best dermal filler for yourself or your client. Opting for an unfamiliar dermal filler brand to save on cost etc will only rebound with potentially dangerous results. Navigating which dermal filler brand to choose for different regions of the body can be difficult. Especially when considering the best product to help achieve the most desirable results. Take into consideration that each product is uniquely formulated to have a certain texture, density, and injection depth. Thus, means that certain dermal fillers will work better for certain areas of concern.  We spoke to industry leader and celebrity aesthetics doctor Dr Motox on which dermal filler brand he would recommend.
"When choosing a suitable dermal filler, I would always opt for REVOLAX. Firstly, REVOLAX has a specific molecular structure that sets it apart from other dermal filler brands on the market. REVOLAX is with a dense gel that is cross-linked and helps it to hold its shape whilst still being super malleable. REVOLAX comes in three different types including Fine, Deep and Sub-Q which specialise in their own properties and purpose. As an aesthetics doctor, I have tried various dermal filler brands which do not compare to REVOLAX. In comparison to other dermal fillers – the longevity of results after using REVOLAX tend to last a lot longer which is beneficial for both me and my clients. Furthermore, when using REVOLAX dermal filler, little to no migration occurs with this product. Another amazing characteristic which again, benefits me and my clients. REVOLAX as a dermal filler is also backed by a substantial amount of clinic research. Plus, it has a market-leading safety profile which is also an advantage."
What Areas Can Be Treated By Dermal Filler?
Dermal fillers can be used to treat various areas on the face and body. This makes them super universal to help combat your every aesthetic need.
For example, dermal fillers can be used on most areas of the face including lips, chin, jawline, nasal labial folds, forehead, and cheeks.
Do Dermal Fillers Hurt? Like most things, pain thresholds will vary from patient to patient. However, the pain experienced from dermal fillers has been labelled as mildly uncomfortable. The comfort of the treatments is heavily based on the application technique which is why it is imperative to choose a well-trained medical professional. Furthermore, most aesthetic practitioners will apply a numbing agent or cream before the treatment such as EMLA Cream. EMLA numbing cream can be used to decrease sensitivity in the applied area which helps the overall feeling of discomfort. Although there may be slight discomfort upon application (as there is with any needle injection), dermal filler injections are small. Moreover, dermal fillers like REVOLAX for example contain an ingredient known as Lidocaine. Lidocaine is a local anaesthetic that works as a numbing agent which helps minimise pain during injection. This makes the client more comfortable for the duration of the treatment. We spoke to medical professional Dr M.G who gave his top tips for reducing the potential discomfort associated with non-lidocaine dermal filler. Tip 1: Ice packs should become an injector's best friend and have been shown through numerous studies to reduce pain significantly. With numbing creams, the maximum effect takes place around 40-60 minutes. However, with the additional use of ice, the wait time is cut down to no longer than 20 mins in sensitive areas and 10 elsewhere. Tip 2: A big factor in reducing pain during treatment is ensuring that needles are kept sharp, and the injection technique is good. It is recommended as standard, that you exchange needles halfway through a lip-filler procedure. Tip 3: For optimal results and better pain management, maximum skin tension should be maintained. Many injectors stretch the lips between two fingers; however, my tip is to stretch towards the midline with a single grip. I find you achieve a better stretch this way. Tip 4: I based upon 'Gate Theory' – where the body feels painless if another sensory stimulus is employed locally – expert practitioners' use distraction tools as a method of pain reduction.
How Do You Choose Your Aesthetic Practitioner?
Here at Fox, we would always recommend doing practitioner research before booking an appointment. Despite the benefits of word-of-mouth, it's vital that you do your in-depth research to guarantee that everything runs smoothly during your opinion.
The most crucial thing to be aware of when choosing your aesthetic practitioner is that they are fully qualified and a registered medical professional with insurance to back this. Safety should be of paramount importance so guaranteeing that you are in the hands of a trained medical professional will be beneficial. Furthermore, upon research – you should always check to ensure that the practitioner offers the treatment you are seeking and at a high level also. Analysing practitioners result images and reviews will help you to make the correct decision.
What are the benefits of dermal fillers?
Naturally, dermal fillers are not to everyone's liking and are subject to opinion. However, dermal fillers have various benefits which may make them the most effective treatment for you. Benefits include:
Firstly, dermal fillers offer a non-invasive treatment method with virtually no clinical downtime and minimal side effects. You can resume your normal activities immediately after treatment.
Dermal fillers are not permanent and will naturally break down. Moreover, if after treatment you decide that dermal fillers are not right for you – you can undergo a dissolving process.
Dermal filler treatments offer patients a wide range of benefits, including a more youthful appearance and volumized look.
These treatments can be tailored to your needs whilst providing a natural look.
Conclusion
With the popularity of dermal fillers on a constant rise – they are more favoured than ever in the aesthetics industry. With their proven track record of impeccable results – achieving your desired look isn't as difficult as it once was. The team are Fox Pharma HQ are constantly on the search for industry-leading, high-quality dermal fillers to bring to the UK market.
Shop our Dermal Filler range online now.
By Florence Goulbourne