With the aesthetics industry showing no signs of slowing down and the recent rise in popularity of treatments such as skin boosters and semi-permanent makeup, new brands are emerging all the time and placing themselves right in between these two treatment areas.
Stayve is seemingly taking the crown. But what is Stayve, and why has it become so popular? Find out in this comprehensive blog from Fox Pharma.
Introducing Stayve
It's taken the market by storm, but what is Stayve and how does it differ from other skin treatments?
Sat comfortably in between skin boosters and semi-permanent makeup, the Stayve range features a collection of mesotherapy products that each work to their own unique and individual abilities to achieve a specific skin objective.
Considering that Stayve is a relatively new brand in the industry, this facial mesotherapy range has rocketed in popularity during its short time within the sector – proving to be a favoured option in clinics nationwide.
Stayve, newly available at Fox Pharma and Fox Clinic Wholesale, is renowned in the beauty industry for its facial mesotherapy treatment range, which boasts safe and KFDA (Korea Food & Drug Administration) approved premium products.
Derived from the beauty capital of the world, Korea, this product range provides patients with a non-invasive yet effective treatment through mesotherapy.
What is Mesotherapy?
Mesotherapy is a non-invasive and non-surgical rejuvenation technique. It uses micro-injections of a cocktail of ingredients, all of which are aimed at diminishing a range of skin concerns. Mesotherapy is administered via numerous small injections that contain various types of approved aesthetic medicines, which work to provide the skin with several enhancements.
This infusion of specialised ingredients nourishes and rejuvenates the skin, while also simultaneously improving the overall skin quality – similar to the protocol for skin boosters. Different types of mesotherapy can be administered, each designed and tailored depending on the concern.
With mesotherapy, a course of 6-8 sessions is advised every two weeks with maintenance treatments 1-2 times a year. However, this is completely dependent on the choice of treatment and initial skin quality.
Essentially, mesotherapy is the perfect procedure for those looking to transform lacklustre skin with minimal downtime. This procedure will not replace lost volume or restore a contoured look to the face. However, it improves the skin in other more beneficial ways.
Still asking yourself, 'what is Stayve'? Keep reading for more in-depth details about our selection of Stayve products.
The Stayve range at Fox Pharma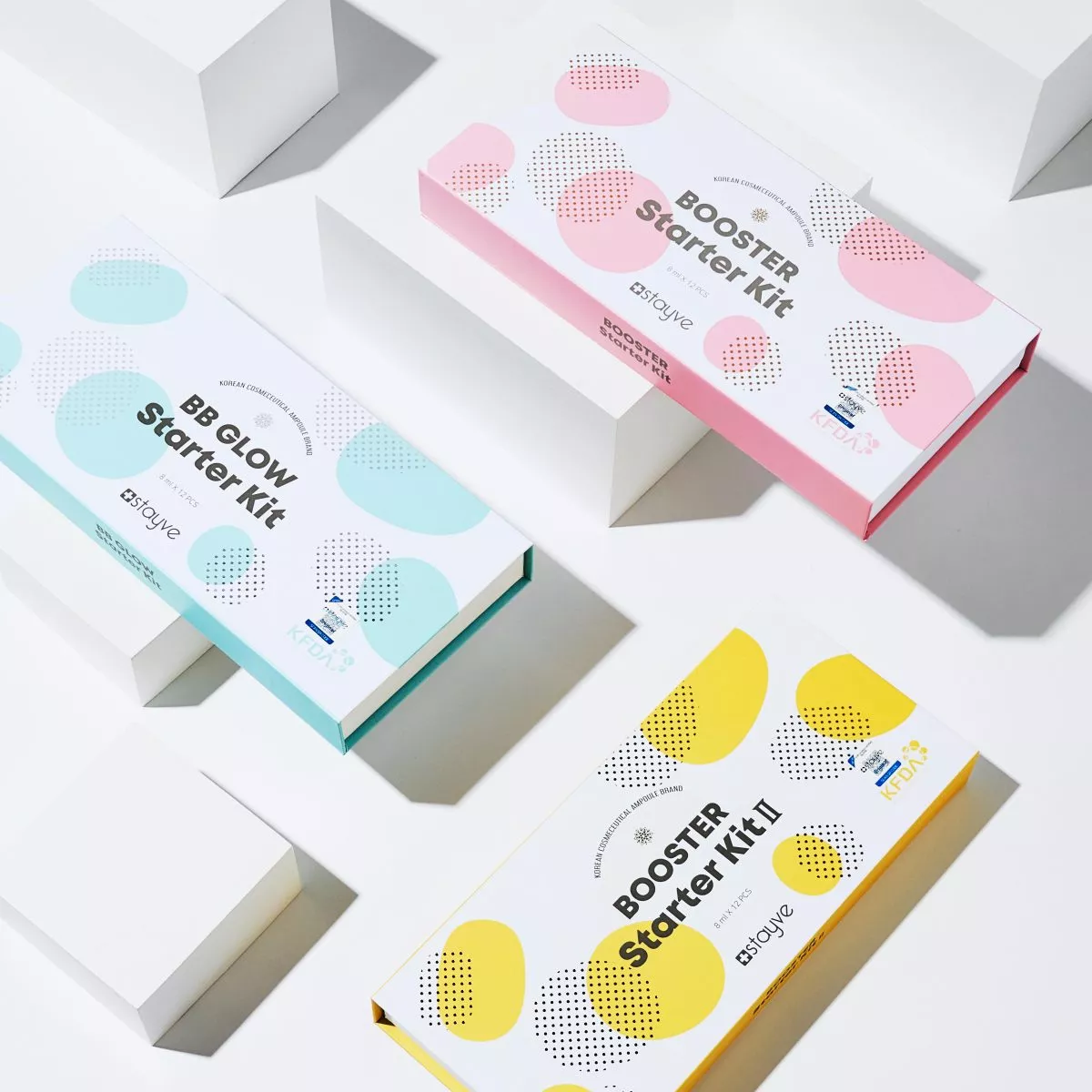 Here at Fox, we currently stock six out of the many Stayve products, with hopes to expand this line in our aesthetic supplies stock. Each of these products is individualised and tailored to help achieve different goals, something that makes the range so diverse.
Stayve Collagen Ampoule
One of the products available at Fox Pharma is the Stayve Collagen Ampoule, which has been developed to be applied to the skin during a mesotherapy treatment using a micro-needling roller or derma pen.
This box set comprises 10 x 8ml vials that have been formulated to help improve skin firmness, whilst increasing moisture retention in the dermis – the perfect choice for those with dryer skin.
Shop the Stayve Collagen Ampoule here.
Stayve Hyaluronic Acid Ampoules
Next on the roster is the Stayve Hyaluronic Acid Ampoules. Stayve Hyaluronic Acid Ampoules work to replenish the skin's lost moisture to help enhance the overall skin appearance and texture for a radiant and rejuvenating glow.
Containing three types of hyaluronic acid, this ampoule enhances the skin's absorption and ability to hydrate dry skin. As Stayve states, glowing and shimmering skin begins with a single vial.
Shop the Stayve Hyaluronic Acid Ampoules here.
Stayve Salmon DNA Gold Ampoule
The last of the ampoules available here at Fox is the Stayve Salmon DNA Gold Ampoule. The Salmon DNA Gold Ampoule from Stayve contains PDRN ingredients in the form of salon DNA, which has skin regenerating and anti-inflammatory effects.
It is an effective ampoule that maintains healthy skin regeneration and anti-inflammatory properties of the skin for a beaming appearance. The main effects of this ampoule are to regenerate, moisturise and brighten skin tone.
Shop the Stayve Salmon DNA Gold Ampoule here.
Stayve starter kits
Continuing with the Stayve range here at Fox, we swiftly move on to the Stayve Starter Kits. These include the Stayve Booster Starter Kit, Stayve Booster Starter Kit 2 and the Stayve BB Glow Starter Kit. All of which are the perfect place to start you on your journey with Stayve.
These starter kits are ideal for those wanting to trial the Stayve range as each is compromised with a set of ampoules to target a specific skin objective. For example, the Stayve Booster Starter Kit is made up of specialised ampoules from the range to help boost skin elasticity and aid skin hydration. On the other hand, the Stayve Booster Starter Kit 2 is for those with the goal of nourishing the skin and treating problem areas.
Last on the roster is the Stayve BB Glow Starter Kit. These ampoules are made up of foundation, combined with niacinamide and peptide for effective brightening and anti-ageing effects.
Stock up on Stayve at Fox Pharma
If you are new to mesotherapy, discover what the Stayve range has to offer here at Fox Pharma. You can also shop our range of Fox exclusives, dermal fillers, skin boosters, PLLA fillers and more in our collection.
If you have any questions about any of our products, you can email us at [email protected] or call us at 01925 320820. You can also submit a request and our team will get back to you with an answer shortly.