Since Fox Group's introduction of REVOLAX into the UK market in 2016 it has rapidly became the Nation's Favourite dermal filler and it's easy to see why. With REVOLAX, customers can create their desired effect, whether that be a full and voluminous Kylie Jenner pout or a subtle smoothing of fine lines. Whatever your preference REVOLAX has you covered.
The unique monophasic polydensified structure creates long lasting results and can stay voluminous for up to 18 months. The consistency of the formula allows for naturally harmonized, smooth injection and promotes a stronger support system within the skin structure.
REVOLAX is a highly cross-linked hyaluronic acid dermal filler. It is a naturally occurring substance which synchronizes with human skin tissue and produces a natural finish. A further benefit of using REVOLAX is the low phase angle, meaning it will not migrate under the skin. The REVOLAX range consists of three different viscosities, which are designed to achieve the best results for different areas of the face, REVOLAX Fine, REVOLAX Deep and REVOLAX SUB-Q. The viscosity used is dependent on the areas of treatment and depth of the wrinkles.
REVOLAX Fine has the lowest viscosity of all three formulas and as such can be used to treat fine lines and superficial wrinkles such as crow's feet as well as areas which benefit from a lightweight filler.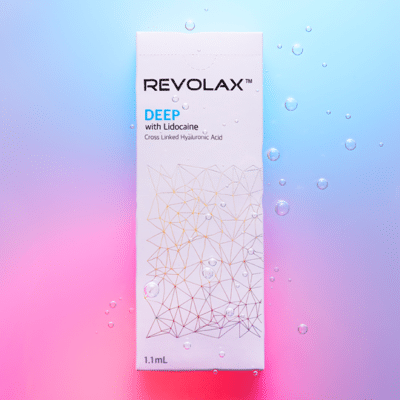 Offering a thicker and longer lasting formula, REVOLAX Deep is a popular all-round option.  The higher viscosity is perfect for treating more persistent wrinkles and laughter lines. REVOLAX Deep can also be used to add volume to the lips natural structure and lasts up to 18 months.
REVOLAX Sub-Q has the highest complex viscosity and is therefore the thickest of all the fillers within the REVOLAX range.  Sub-Q is perfect for severe wrinkles and facial augmentations in areas such as nose, chin and jawline.  This highly crosslinked product is for subcutaneous implantation and can last up to 18 months.
All REVOLAX products volumise and smooth areas without compromising on a natural look thanks to the dense nature of the formula's structure. Infused with lidocaine, REVOLAX also assists with pain management post procedure.
Join the Revolution and try REVOLAX for yourself today, you can purchase REVOLAX with or without a prescription.